Deaths — St. John
Ham Radio Pioneer Louis Kiel Bean Dies at Age 96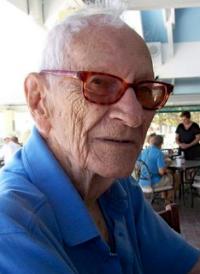 Long-time St. Croix resident and ham radio enthusiast Louis Kiel Bean, 96, died Oct. 21, at Queen Louise Home for the Aged in St. Thomas, where he had lived since May.
Bean was born Oct. 1, 1916, and was the co-founder of the St. Croix Amateur Radio Club. He was known around the world by his call letters, KV4JC.
Bean was married to the late Ruth Eyrse Bean and was a former resident of Clayton, MO. He was employed as an electrician in the States and retired to St. Croix in January 1975. For some 10 years he worked part time selling advertising for Radio Station WVIQ-FM in St. Croix.
Bean was first licensed as a ham radio operator in 1932 in Los Angeles with the call sign W6FQK, and was active up to World War II. Though inactive for many years after the war, he still held two other calls, W9KWL in Chicago, and WOVPJ in St. Louis.
Long-time friend Peter Jachimiec of Chicago said Bean helped pass emergency health-and-welfare messages back to the States during Hurricanes Hugo in 1989, Marilyn in 1995, Georges in 1998 and Lenny in 1999.
"Louis was very active in the St. Croix amateur radio community, " Jachimiec said. "He was an avid Chicago Cubs fan and devoted to his dog of 12 years, Curly, who survives."
Another long-time friend, John Ellis, NP2B , recalled: "Lou had a knack for copying the international Morse code, and one of the requirements for the highest class of amateur radio license at that time, was the ability to send and receive code at 20 words per minute. That was a deterrent to a lot of folks. After Lou and I got to be good friends, I started "razzing" him about having a "toy license," (he had a "general" class" license and the highest class was called the "amateur extra.")
"Now there is nothing wrong with having a general class ticket but I knew full well that he could pass the code test easily, and although he would have to do some studying to pass the higher class written exam, it wasn't going to be that hard for him because of his electrical background. Time came shortly thereafter when he when he got tired of hearing this noise from me, he buckled down, studied and passed the bloody thing – after which time he told me in no uncertain terms to '%$*&@#%$*.'"
Among Bean's other activities, he acted as net manager and primary net control for the Caribbean Maritime Mobile Net since 1985, a net which serves cruising yachts in the Caribbean and Southwest North Atlantic. He was a 32nd degree Scottish Rite Mason, a one-time member of St. George Botanical Society and the St.Croix Yacht Club, and former member of the American Radio Relay League.