Local news — St. John
Summer Opportunity for V.I. Students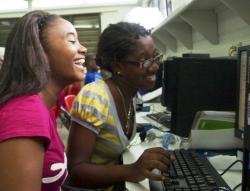 With a goal of developing the next generation of the territory's leaders, the V.I. Scholars program will holds its second annual Summer Leadership Institute at Gifft Hill School on St. John.
Applications are being accepted through April 15 for the summer program that runs from July 30 through Aug. 18. The institute is free.
Lincoln Liburd, V.I. Scholars director and founder, said participants in the leadership institute are "exposed to like-minded individuals who want to make the Virgin Islands a better place."
Liburd, a St. John resident who now attends California's Stanford University, founded the program in 2010. The organization held its first leadership camp in 2011.
The program aims to demonstrate ways to achieve academic excellence, community service, honor, leadership and perseverance.
The Summer Leadership Institute has 20 available slots for students entering their freshman or sophomore years in high school.
Liburd said applicants must have attended school in the Virgin Islands since 2006, must plan to attend or already attend high school in the Virgin Islands, and must have a B average or higher since the beginning of the seventh grade.
Liburd said the classes at the 2012 Summer Leadership Institute will be taught by Stanford students and alumni.
Last summer, seven students participated and took six classes including leadership, public speaking, entrepreneurship and innovation.
Mary Buendia, a student in last year's program, said she enjoyed the open environment. "It was not competitive and that made me happy," she said. "I got to interact with teachers during class and felt respected when voicing my opinions."
Participants had the opportunity to meet with territory leaders including senators and corporate executives. They also and spent time listening to experts make presentation on issues facing Virgin Islands youth.
St. Thomas students will catch the 8 a.m. ferry from Red Hook to Cruz Bay and return home on the 5 p.m. boat.
V.I. Scholars calls community volunteers to share their expertise on issues that affect youth, as well as mentors for social impact project teams.
Applications for volunteers and students are found at www.vischolars.org/scholarapp.html.
Tax-deductible donations to support of V.I .Scholars can be sent to the Community Foundation of the Virgin Islands, P.O. Box 11790, St. Thomas, VI 00801-4790, attention V.I. Scholars Fund.
To learn more about V.I. Scholars and its work, visit the V.I. Scholars website,www.vischolars.org or email contact@vischolars.org.