Local news — St. John
Not for Profit: Sisterhood Agenda Mentoring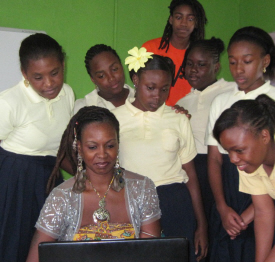 Ten sixth- and seventh-grade St. John girls are getting a bit of help in making the transition to young women through the Sisterhood Agenda's Mentoring Program at Julius E. Sprauve School.
"It teaches us how to be independent ladies," Kemisha Hoheb said, as the group met for their lunch time sessions.
The program's goal is to establish positive peer pressure to forge a positive life outcome, Sisterhood Agenda President Angela Coleman said. She said the girls are more influenced by peers than parents, so the program steers them in the right direction.
Its aim is to help the girls avoid the pitfalls of teen pregnancy and juvenile delinquency as well as address health issues and provide a spiritual foundation. The girls also learn about African and St. John history and culture. At a recent session there were some technical glitches, but Coleman showed a film about the Egyptian queen Nefertiti.
"I want to learn about other cultures," Darcaja Thomas said.
A recent session began with affirmations to reinforce positive feelings about themselves.
"I'm a great person," Destynee Hill said.
The group began meeting in February and will continue once a week until school ends. Coleman hopes to run the program again in the summer and during the next school year if funding comes through.
Coleman would like to hire someone to lead the group. She said that ideally, the person would only be out of college a short time so the girls could relate to her but she would have the advantage of the experience that comes with those few extra years.
The program is currently operating on a $15,000 federal Community Development Block Grant. The funding includes the distribution of the "A Journey Toward Womanhood," a curriculum book written and updated by Coleman.
The program also involves decision making on the part of the girls. They'll raise money through cupcakes, brownies, cake, chips, juice, and soda sales to go on a field trip. They get to decide where they'll go but Coleman said St. Thomas, St. Croix, Tortola, Sky Ride, Coral World, concerts, plays, local beaches, and restaurants are possibilities.
"The fundraiser is to help out the community and ourselves," said Ayana Coleman-Dixon.
The program gets high marks from Sprauve School top administration. Assistant Principal Brenda Dalmida said the girls can bond in less competitive ways, learn strategies for working together, and appreciate the importance of sisterhood. "It will help them see strengths in each other and in themselves," she said.
Sprauve School Principal Dionne Wells said the mentoring program is a good opportunity for girls to spend time with someone who has a positive influence on them with discussions and activities."
"This is a cool program," Diane Jackson said, summing up.