Local news — St. John
Speakers Stress Small Islands Must Stand United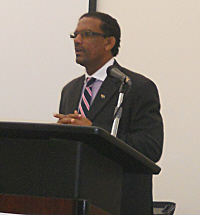 Speakers at the Rio+20 United Nations Conference on Sustainable Development briefing at the University of the Virgin Islands St. Thomas campus stressed coming together as island nations, otherwise small states may not survive the environmental crisis in the region.
The conference, held June 20 through 22 in Rio de Janeiro, began in 1992 as the United Nations Conference on Environment and Development, and eventually combined the World Summit on Sustainable Development which was first held in 2002 in Johannesburg, South Africa.
Thursday's discussion at UVI focused on the implications for the Caribbean and Virgin Islands. The conference itself focuses on the constant search for sustainable development, interest and challenges related to development, and new concepts and ways of organizing communities and resources.
"The conference looked at the emerging earth crisis. Any aspects where we're reaching a tipping point, and if we don't do something, we won't be able to recover," said Carlyle Corbin, an international advisor on global governance and former Minister of State for External Affairs of the U.S. Virgin Islands.
Speakers stressed that the U.S. Virgin Islands and British Virgin Islands have linked economies and shared resources that are both fragile and need to be preserved together.
The environment is changing rapidly and it will continue to impact our region, said Kedrick Pickering, Deputy Premier and Minister of Natural Resources and Labour in the British Virgin Islands. He noted that experts have warned island nations that the gross domestic product will be higher than the global average because of climate change.
Pickering said it's especially important to all Virgin Islands to realize the impacts of climate change, enhance resilience and capacity of all natural resources like fisheries, protect marine and coastal environments, raise the industry and use energy wisely or we will eventually destroy ourselves.
"If we are concerned about development of this region, we ought to be concerned about the environment. There's absolutely no tourism without the environment," said Pickering. "We are so blessed to live here and we need to leave this place in a much better condition for generations to come."
"We have to worry about passing on empty islands. We have to enact change, completely rethink and get smarter about the way we do things. Make smarter and greener decisions," he said.
Speakers also discussed the importance of the Virgin Islands' role in the Small Island Developing States, which was established in 1994 after the United Nations saw the progression of interdependence between islands and agreed they have unique development challenges and needed to be treated as such.
According Pickering, SIDS is dedicated to sustainability, improved efficiency, reduction of use of natural resources, healthier lifestyles and habits, social equality and human wellbeing, and reduction in environmental risks and ecological scarcities.
Corbin said a global conference was held in Barbados in 1994 to consider how small island states could deal with their unique challenges. They discussed things such as the right for everyone to have access to food as well as agriculture and rural development, climate change affects, water and sanitation, effects of natural disasters in developing areas, alternative energy, sustainable tourism and sustainable transportation.
Corbin said other highlights of this year's conference addressed people. They discussed a population's access to safe and affordable transportation, sustainability in human settlements, affordable housing and development of infrastructure, the right for people to attain physical and mental health, neglected tropical diseases and communicable diseases, the issue of employment and youth employment, and the right to develop.