Local news — St. John
V.I. Next Generation Network Awards More Construction Contracts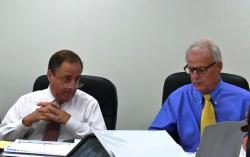 Working towards finishing all the bidding and contracting for its territorywide broadband network, the Virgin Islands Next Generation Network's governing board approved roughly $1 million in contracts for installing backup generators, racking and steelwork at its fiber access points during its regular board meeting Wednesday. All the remaining major construction contracts will "hopefully" be out to bid by the end of October, viNGN President Larry Kupfer told the board.
"All told, we have seen about $25 million in work solicited in August, September and October, and hopefully by the end of October all the (requests for proposals) will be out," Kupfer said. "Needless to say, this is kind of a peak period for procurement. There are lots of things in various stages that should be completed in the next month and work should be getting started," he said.
The board approved a contract for about $173,000 with J. Benton Construction for materials and labor to install racking and steelwork in the fiber access points (FAPs) that form the hubs of the planned network. It also approved a roughly $600,000 contract with Construction Solutions for backup generators and transfer switches at the FAPs. The generators and switches are to help ensure equipment is not damaged by overheating if the power goes out, Kupfer said.
"When power is lost, the generators will kick in to make sure the air conditioners will operate," Kupfer said.
The board also authorized Kupfer to negotiate final terms of a contract with Cable & Com for MaxCell fabric conduit liners. The specialized fabric mesh sleeves have a Teflon-like low-friction exterior and a built-in cable pulling wire that makes it much easier to install new fiber or other cables into existing conduit, Kupfer said. This will speed up the laying of cable, allow viNGN to add cable after the conduit is buried, and increases the amount of cable that can run through an existing conduit, he said.
These latest contract awards are in addition to $14.1 million in construction service contracts viNGN recently issued, including $13.4 million for trenching to lay fiber optic cables that will provide the backbone for the future high speed Internet highway of the territory. (See related links below)
"These monies will provide local construction spending to our island contractors at a time when Virgin Islanders are struggling and at a time when the Virgin Islands local economy can truly benefit from such monies," deJongh said in a statement from Government House after the meeting.
The project is partially funded through four grants awarded the territory by the Broadband Technology Opportunity Program of the U.S. Department of Commerce's National Telecommunications and Information Administration. The 29th Legislature approved issuing a $38 million bond as a required matching contribution in April 2011.
Under the terms of its grants, viNGN has until June 2013 to complete the network.
"We don't see any obstacles to completing it by the ... deadline next year," Kupfer said during the meeting.
Meanwhile, seven of 28 public computer centers that viNGN is building with another federal grant are fully complete and ready to open as soon as policies and guidelines for public use are in place, he said.
"By the end of October these seven sites will be open and some are being used now – the ones at Labor and at the V.I. Resource Center for the Disabled," Kupfer said.
The seven PCCs that have equipment and are ready to go are located at:
- Labor Department offices on St. Thomas and St. Croix;
- V.I. Resource Center for the Disabled offices;
- The New Image Foundation in Havensight Mall, St. Thomas;
- The Boys and Girls Clubs in Christiansted;
- Louis E. Brown Villas on St. Croix;
- Walter I.M. Hodge Pavilion on St. Croix.