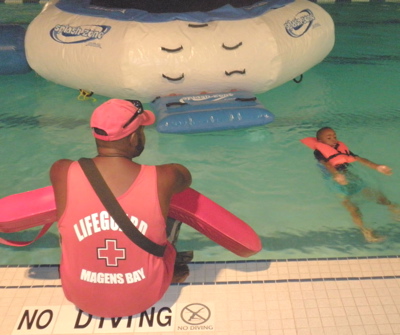 It's almost 7 p.m. on Friday. The sun is just beginning to set, and kids are happily splashing about in the pool at the St. Thomas Swimming Association.
A few older kids take turns bouncing off an oversized, inflatable, trampoline-like pool toy. The younger ones splash happily in the shallow end. A lifeguard keeps a vigilant eye on both groups.
It's part of the Association's Friday Night Fun program. The program allows children ages 6 through 12 a few hours of supervised play in the pool – along with snacks and drinks – while parents can enjoy a night to themselves.
"The idea is to give parents a weekend here and there," said Brian Cameron, aquatic supervisor at the pool. "It's an opportunity to get out and have fun, and give the kids an opportunity to get out and have fun."
Tonight the snack is grilled hot dogs, chips and juice drinks. Cameron and another pool employee man the grill while the kids have fun.
"Opportunity! You gotta take it!" A lifeguard urges one hesitant boy to jump from the pool's edge onto the pool toy. A few minutes later he is warning another smaller boy about the dangers of running on deck and outfitting him in a bright orange life vest.
"I love coming here and mingling with the other parents," said Eilet Smith, who brought her six-year-old son Clarence.
"Sometimes I go to the beach and it makes my eyes burn, so I like to go to the pool," Clarence explains.
Brothers Myles and Kalil Todman, ages 11 and 10 respectively, both take a break from their hot dogs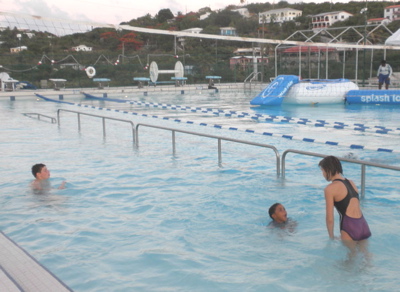 to share what they like the most about the program.
"Swimming, meeting new friends," says Kalil. Miles says he has enjoyed learning swim techniques. Asked if he is a fast swimmer, he says "I wouldn't say that, but I'm good."
Cameron says the association has been offering Friday Night Fun since December. He says they have had as many as 20 children come at a time, although tonight's crowd is much smaller –just six. For safety, they have a 25-to-one ratio of children to lifeguards.
The next session for Friday Night Fun is August 14. The program begins at 6 p.m. and ends at 9. The cost is $20 per child, and $15 for a second child in the family. Call 340-779-7872 for more information.