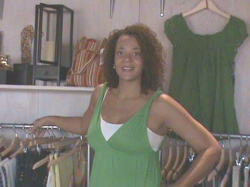 I am a self-proclaimed shopaholic.
I've bought clothes at just about every store on island, and over the past couple weeks, I'd been eying some very cute dresses I saw in the window of the Dharma Boutique – the new shop attached to the Barefoot Buddha Café in Havensight. I finally went in the other day, having just gotten my paycheck, and was surprised to find that the clothes were pretty affordable – $30 to about $70 dollars for everything ranging from jeans to tops. And after poking around a bit, I realized, to my delight, that I could pick out an outfit, then accessorize it with the bags, belts and shoes also in the store – all for $100 or less.
On Wednesday, I bought my first piece of Dharma clothing – a beautiful orange dress with cinched sleeves that feels lighter than air when I put it on. I looked at the tag – 100 percent cotton that you don't have to dry clean, but can wash by hand in cold water. And you don't have to worry about everyone wearing what you've just bought – there's only about three of each piece, so your wardrobe can stay unique.
"I wanted to bring something back to the island that's missing for us women," boutique owner Aeron Cogen Hill told me as I raved on and on about the clothing. "It's hard to find fashionable merchandise at the right price that takes into account our climate."
Hill has worked in retail for years and knows that everyone – especially these days – is on a budget. But she also knows what women want, and has filled the shop with a variety of candles, soaps and other novelties for less than $20.
"I want to help women find the things they feel good in," Hill told me. "What ever fits that need – I can fill that. So if you're looking for your own little spot with a variety of items that are good quality, come and check us out."
Here's the kicker. The Dharma Boutique is open seven days a week – mirroring Barefoot Buddha's hours – from about 10 a.m. to 4 p.m. So wander in and get your shop on, but I've got dibs on that purple waist-tie dress at the back of the store.
To our readers: Please send your "Open for Business" stories to the Source using the "contact us" function at the bottom of the page.