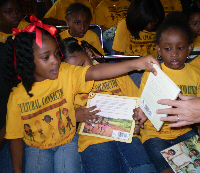 Another summer camp closed Friday. At the ceremonial closing, the campers were cheered for the reading they accomplished during the six-week camp. It was a rousing affair for the 31 children who attended the Summer Reading Program (SRP), Cultural Connection at Florence Williams Public Library in Christiansted.
Margaret Mongeau, president of The Friends of the St. Croix Library, said organizers received a note from a parent asking what they did with her child to make him a reader.
"A lot of children who were not excited about reading became turned on about reading through the program," Mongeau said. "The program was tremendously successful."
At the closing, the Friends gave each student attending camp an age-appropriate paperback book to keep. The youngsters gave book reviews, read poems and stories, and sang for the group of family and friends gathered.
The camp was not just about reading.
The campers made designer houses out of shoeboxes with all sorts of mini-furnishings. They learned to crochet pillows and make clocks. They crafted octopi and poodles out of colorful yarn. They had a mango-eating contest and went on cultural field trips. The older campers held book discussions.
Certificates were given to the most helpful campers and volunteers, and the ones who read the most books. Keshaundia Quinn was honored for reading 13 books.
"My favorite part of camp was reading the new books," said camper Brianna Williams. "The arts and crafts were fun too."
The six-week day camp program is sponsored by the Department of Natural Resources and the Friends of the St. Croix Library. The fee was $25 for crafts, Mongeau said next year the friends will more than likely cover the fee.