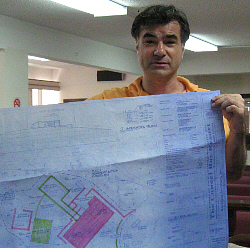 In a 20-minute meeting Tuesday, the St. John Coastal Zone Management Committee gave Caneel Bay Resort the OK to upgrade the manager's house. The project includes making repairs on the 1960s-era house, getting rid of termites, adding a bedroom, and installing a pool. Project architect Michael Milne said Caneel may put the house into the rental market instead of using it to house the resort's manager.
At issue for the three CZM members at the meeting, held at the Legislature building, was Caneel's proposal to install a spa within the walls of nearby centuries-old plantation ruins.
"There is the potential for the abuse of the ruins. Find another location," CZM member Gerald Hills said.
Milne agreed to put the spa next to the pool.
In addition to the usual permit conditions, such as notifying CZM before Caneel starts work on the project and installing silt fences, CZM members also told Caneel to look out for historical artifacts when the contractors excavate. And should the contractor uncover human remains, all construction must cease.
"You must consider the likelihood of this possibility," Hills said.
If that happens, Hills said Caneel must contact the Department of Planning and Natural Resources' State Historic Preservation Office.
Milne said after the meeting he did not know when work would start because Caneel still needs to obtain a building permit.
Tuesday's approval by the CZM is a modification to a major CZM permit approved in 1988. That permit allowed Caneel to add 40 rooms near the resort's Scott Beach and build an activities/health center. Those projects were completed years ago.
In 2008, Caneel Bay received a modification to the original permit to construct a gate house and replace the property's reverse osmosis plant. Milne said those projects are just about finished.
Milne said that Caneel had asked that the renovations at the manager's house be included in last year's modification but had to wait for approval from the Preservation Office. He said approval was granted in April.
CZM members at the meeting included Hills, Andrew Penn and Chairman Madaline Sewer. Member Edmond Roberts was absent. Except for a reporter, no one from the public attended the meeting.