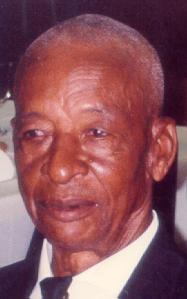 Arnold Douglas Allen of Joseph James Terrace died on Sept. 6, at his residence. He was 90 years old.
He is survived by his spouse, Eliza A. Allen; daughter, Mary Ann Greer; stepdaughter, Diana Harris; stepsons: Fabian and Samuel Christian, Joseph Daley and Thomas Lee; grandchildren: Lyn and Daphne; and great-grandson, Jordan. He is also survived by brothers: Rufus and Wilfred Allen; caretaker, Indy St. Prix; special friends: Chris Athill, Morel Meade, John Barzy, Charles Seth, Mr. and Mrs. Thomas Daley, Mr. Bramble and Mr. Boatswain; as well as other relatives and friends too numerous to mention.
There will be a viewing held at 10 a.m. and a funeral service at 11 a.m. on Sunday, Sept. 20, at Peter's Rest Seventh-day Adventist Church. Interment will follow at Kingshill Cemetery.
Professional services are entrusted to James Memorial Funeral Home Inc.