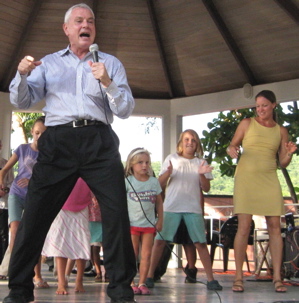 With a shake of his posterior, Dancing Classrooms head Pierre Dulaine told the several dozen St. John school children and adults to follow suit.
"Ladies and gentlemen, this is the meringue," he said as his pupils made their way Thursday around the bandstand in Cruz Bay Park.
Soon, he had them twirling and dipping as they learned the basics of several ballroom dances.
Dulaine, who runs Dancing Classrooms from New York, was on St. John to kick off a 10-week learn-to-dance course to be held at Julius E. Sprauve, Guy Benjamin and Gifft Hill schools. Instructors trained by Dulaine will head to the classrooms twice a week.
The program is sponsored by the Pond Bay Club, now under construction at Chocolate Hole. Pond Bay developer Bob Emmett, who was taking his turn around the dance floor with a youthful partner, said Pond Bay wanted to do a community project. He said that thanks to an interest in dance by the company's program director, Jaycee Gossett, Dancing Classrooms came on board.
Emmett said that Pond Bay is in the midst of applying for an Economic Development Authority tax benefits package. Community endeavors are usually one of the things companies must do to get the package.
"But we would do it anyway," Emmett said.
Top officials from St. John's two public schools were enthusiastic about the Dancing Classrooms program.
"The discipline and skills they learn will carry them through life," Sprauve Assistant Principal Brenda Dalmida said.
Both she and Guy Benjamin School principal Dionne Wells said they welcomed the chance to get more art experiences into the curriculum. Wells said she planned to apply for a grant so Dancing Classrooms can reach more students at her school.
Dulaine called Dancing Classrooms a social development program that helps kids improve their skills.
Dulaine, 65, has been dancing most of his adult life. Born in Palestine to an Irish father and a mother with French and Palestinian parents, the family fled the war-torn region in 1948. They eventually settled in Jordan, where Dulaine grew up. When he was 14, more civil strife sent them on to Birmingham, England, where Dulaine took up dancing.
"I used to be shy. Dancing helped me a lot," he said.
He moved to New York 38 years ago and he continues to live there.
Dulaine's final appearance on St. John will be Friday at a gala aimed at raising scholarship money. The scholarships will go to children who have participated in the Dancing Classrooms program, Emmett said.
The event begins at 7 p.m. at the Westin Resort and Villas ballroom. Admission is $10. Dulaine will provide dancing instruction to those who attend the gala.