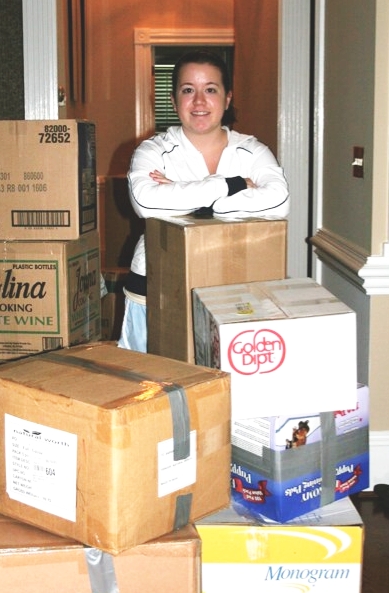 When then-15-year-old Khacki Greene left St. Thomas for North Carolina some two years ago, a part of St. Thomas stayed with her — an idea.
"I was fortunate enough to go to Antilles School," she says, "and I was also fortunate enough to go to public schools, and I noticed a big difference. When you live on St. Thomas, you take things for granted, like school buses and kids having backpacks and supplies for school every day."
The distinctions really struck her.
"It bothered me how differently people can live on one island," she says.
Greene was co-host on "Graffiti Street" for a year, which is filmed at public schools. That experience gave her access to the schools, and see how different things could be.
"I saw a note by a piece of chalk," she says, "It read, 'Please do not use as it is all I have left.'"
That was all the motivation Greene needed.
"I really wanted to do something for St. Thomas students," she says. "I decided to get them the supplies they need. I believe if children are given the necessary tools to succeed, they will."
After the family moved to North Carolina, she put to use her natural talents for organization and communication.
Greene is very direct.
"I'm pretty good at giving speeches," she says. "I was interviewed on a local radio show and the host asked me my goal. I didn't really have a goal. He said, 'I'm sure you'll get 500 (backpacks).' Oh, my gosh, that really touched my heart. I found some motivated students at my new school, The Elon School, and we went around to different schools and gave speeches about what we were doing."
The project simply took off.
"We were on the front page of the local paper," she says. "The kids were so excited to help, so enthusiastic. They would have little drives to see who could raise the most money. One school in particular, Burlington Day School, got parents involved, too. It was amazing. They kept a chart and a graph, and whichever class collected the most got to throw water balloons at the principal."
And, perhaps more amazing, at age 16, Greene, with the help of Lambda Chi Alpha at Elon University, formed her own non-profit foundation, Pack for Success, to facilitate the funding.
Greene, now 17, is president, and none of the other six board members is older than 17. In fact, treasurer Jessica Brandewie is 12.
In three months earlier this year, they raised $1,000.
"It's very expensive," Greene says. "The shipping alone for almost 600 backpacks, 400 brand new at $7.95 each, will give you an idea."
Her family was more than accommodating, she says.
"Mom let us stack everything in the dining room for about two months," Greene says. "I'm still learning as I go. I didn't think point to point. We had to get a big truck to warehouse the packs, and they had to be shrink-wrapped. And I had to get a shipper. Local businesses helped .Everyone volunteered for free."
Joan Amerling, Antilles School community liaison, says the Interact Club students at Antilles got busy once the packs arrived.
"We received more than 500 backpacks and the supplies to fill them — notebooks, paper, folders, pencils, pens, colored pencils, chalk, glue, scissors, rulers," Amerling says.
The packs will be distributed to schools right away.
"We got about 20 kids and, in three days, we filled all the packs," says Interact club advisor Carol Malo.
Greene says this is just the beginning.
"There's no age limit on changing the world," she says. "'Children are our future' — I really live that quote."
The foundation will continue the project.
"I plan to do this all through college," Greene says. She is not modest about her ambitions: "I'd really like to get on 'Good Morning, America' so everyone could know about it."
Gov. John deJongh Jr. is one of Greene's heroes, and the inspiration for her future career.
"I met him when he was campaigning — I interviewed him on 'Graffiti Street,'" she says. "He inspired me to become a politician. He and his wife are very down to earth, very nice."
Greene, now a senior at The Elon School, has her eye on George Washington University in Washington, D.C., a likely locale for a political career.
And there's another reason Greene might head to Washington: the presence there of a friend and mentor who has shown Greene what thinking big can do.
"Susie Kay started Hoop Dreams," Greene says, referring to a non-profit scholarship fund. "In 12 years, they've sent more than 1,000 kids to college. She's amazing."