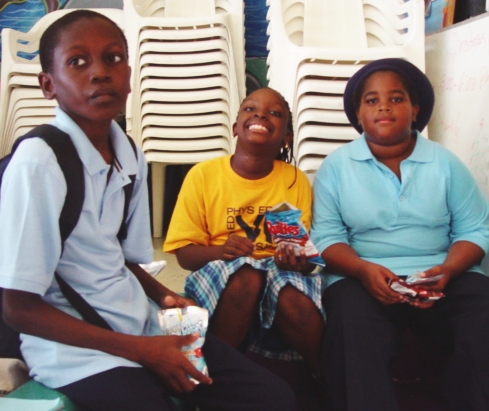 About 20 elementary school-aged children came in to meet the new Boys and Girls Club Team in Oswald Harris Court on Monday and see the large, airy and freshly repainted recreation room in the community center.
The club also has the use of two classrooms and a well-equipped computer lab with 13 stations and a printer.
Among the first customers to arrive at the new club were Angelina Hodge, 8, and Sheanejah Crabb, 9, who mugged for the camera.
After being greeted by the staff, the kids put down their bookbags and got an after-school snack of juice and chips. Typically, the structured after-school program starts with a snack, followed by "power hour," when tutoring is available for homework, followed by an enrichment activity, according to Julie Landreneau, executive director of the Boys' and Girls Club of the Virgin Islands.
The club has about 20 kids enrolled on opening day, and will work toward a goal of about 45. The cost of membership in the program is $25 a year.
The program runs from 2:30 to 6 pm Monday through Friday for now, Landreneau said. The club will offer some evening programming for teens in the near future.
The Boys and Girls Club is a joint effort between the Boys and Girls Club of the Virgin Islands and the V.I. Housing Authority, and a number of individuals from the local community, non-profits and the business community on St. Thomas.
The club has come together in just a few short weeks, with the location offered by the Housing Authority, as well as generous support from the George G. and Gayla Sue Levin family.
"The beauty is that it is a collaborative effort with HUD," Landreneau said. "They needed programming, they had the facility, so we just had to staff it and make it happen. They provided two classrooms, the computer center and the recreation center, plus cleaning support. How could we not take advantage of the opportunity?"
The group had been searching for a location since the old Boys and Girls Club in Savan closed last year.
"Mr. Levin said to find a place and he'd help out," Landreneau said.
Over the weekend, about 10 neighborhood kids helped clean and organize to get the center ready, fundraiser Peter Zachko said. Zachko and his company, Jose Santiago Food Distributors, donated Zachko's time to support the project.
The bright new paint in the recreation room was donated by the Paint Depot and the painting is the work of Mike and Shelby Pittman. The furniture delivery labor force came from the Carib Riders motorcycle club, with the support of a donated truck and drivers from the West Indies Corporation.
A donation from Price Smart helped to pay for the snacks, and rooms for the staff from St. Croix were donated through the USVI Hotel and Tourism Association, Association president Lisa Hamilton said.