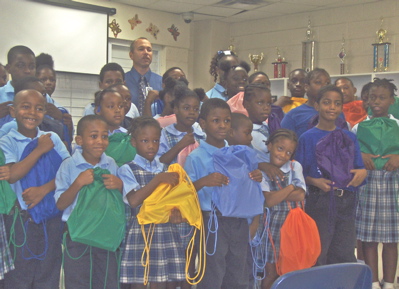 About 50 Lockhart Elementary School children filed out of the school library Wednesday morning, each sporting a big smile and a brand new backpack.
The youngsters brought their own smiles; the backpacks came from Khaki Greene, an innovative and determined teenager who left St. Thomas for North Carolina some two years ago, armed with an idea.
Greene, then 16 years old, formed her own not-for-profit "Pack for Success," and this year sent more than 500 backpacks to St. Thomas for public schools.
Joseph Sibilly, Department of Education Insular Superintendent, and Lockhart Principal Carla Sarauw, passed out the brightly colored backpacks – orange, pink, green, yellow, blue – to the eager youngsters who stood impatiently in line.
Sibilly explained briefly to the students, ranging from five-year-old kindergartners to 12 year-old sixth graders, about not-for-profit organizations, and how they sometimes help schools.
"These were given to us by a young person who formed her own organization," he said. "What we want you to do is tell your parents and your friends about how useful all these pencils, notebooks, crayons are, and how they help you, and I want you to say altogether, "Thank you, Khaki.' "
Greene spoke about her project in a phone interview with the Source earlier this month.
"I was fortunate enough to go to Antilles School," she said, "and I was also fortunate enough to see the public schools, and I noticed a big difference. When you live on St. Thomas, you take things for granted, like kids having backpacks and supplies for school every day."
The distinctions really struck her. Greene was co-host on "Graffiti Street" for a year, which is filmed at public schools. That experience gave her access to the schools.
"I saw a note by a piece of chalk," she said, "It read, 'Please do not use as it is all I have left.' It bothered me how differently people can live on one island," she said.
"I really wanted to do something for St. Thomas students," she said. "I decided to get them the supplies they need. I believe if children are given the necessary tools to succeed, they will."
At age 16, Greene, with the help of Lambda Chi Alpha at Elon University, formed her own non-profit foundation, Pack for Success, to facilitate funding for the project. None of her board members is older than 17. They raised funds, speaking at local schools, newspapers and radio.
"My mom let us stack everything in the dining room for about two months," Greene said. "We had to get a big truck to warehouse the packs, and they had to be shrink-wrapped. And I had to get a shipper. Local businesses helped .Everyone volunteered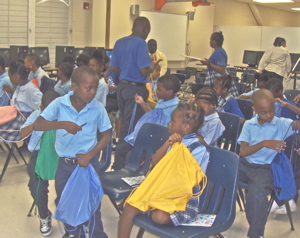 for free."
The more than 500 backpacks and supplies were sent last monmth to Joan Amerling, Antilles School community, and the school Interact Club students filled them with notebooks, paper, folders, pencils, pens, colored pencils, chalk, glue, scissors, rulers.
Nicole Smith, DOE superintendent who has shepherded the project, said the other backpacks are being distributed to Julius Sprauve and Guy Benjamin Schools on St. John, along with Addelita Cancryn and Bertha C. Boshulte Junior High Schools, and Jane E. Tuitt and Leonard Dober Elementary Schools on St. Thomas.