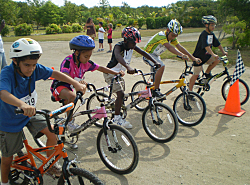 The race course was rutted and bumpy Saturday, but the youngsters in the Conch Shell Classic Kids' Cycling Race dodged the potholes, handling the course like pros. The V.I. Cycling Federation sponsored the race, the second for the year.
Ferdi Abraham, treasurer of the federation, started the race with the blowing of the conch horn instead of a starter gun. Tom Guthrie, race organizer, led the youngsters cycling around the first lap of the flat course.
The youngest ones' little legs were pumping as fast as they could, and some of the mandatory helmets were askew. Parents who had to accompany their children cheered on the young cyclists. One mom had to rush to her little one on the course because he was in tears after not racing as fast as he wanted to.
The race length depended on age, beginning at .6 mile or two laps for 5- and 6-year-olds and up to 9 laps or 2.7 miles for 13 to 14 year-olds.
There were 12 children taking part in the race Saturday. "There could have been a big conflict with it being a holiday weekend and people off island or there is a soccer game today," said organizer Theresa Harper. "We had tons of kids in our first race."
First place winner in the 5 to 6 year category was J'Vian Burgos and 7 to 9 was Dominac Pugliese. Miguel Cruz took home first in the 10 to 12 age group,
"It's kind of easy when you are in first place," said 8 -year-old Wylie Crowther. "It is hard when you are chasing first place." Crowther came in second in his second competition.
"We are in keeping with our motto 'junior juvenile talent recognition,' finding kids and adapting them to cycling as a sport," said Bevern Sage, V.I. Cycling Federation president.
The focus on a positive outlet such as racing competition benefits the children, said Sage. The 75-member federation hopes to raise funds to buy a number of bikes and helmets. Children just show up at the race, ride one of the federation's bikes, and parents don't have to spend a lot on bikes, Sage said.
The kids got medals for first, second, and third place. Each child was entered in a raffle winning items such as water bottles, cycling gloves, bike bells, and helmets donated by Stamina Sports. The grand prize was a 26-inch Trek M220 mountain bike donated by Napoleon's Pizza.
Apolinar Acevedo won the bike and gave it to his little sister, who had been eyeing the bike in Stamina Sports for a while.
For more about the V.I. Cycling Federation call 773-0079.