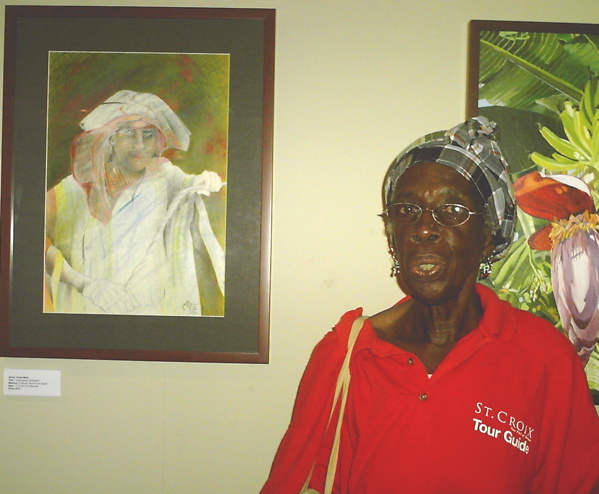 When passengers disembarked from Adventure of the Seas to explore St. Croix Saturday, two dozen of them were the first to take part in a new program – walking tours of Frederiksted's historic buildings led by tour guides trained by Crucian Heritage and Nature Tours.



According to Onaje Jackson, a board member of CHANT, the Saturday morning tour marked the culmination of a dream that led to the organization being formed in 2004. He says tourists want more than warm weather and nice beaches – and many islands can offer those.
"Tourists are looking for authenticity," said Brad Nugent of the Department of Tourism. "They don't want to get off the boat and eat at Wendy's. They want to taste authentic fungi. They want to touch the madras cloth they see on the moko jumbies."
The walking tours give visitors a chance for that experience, a chance to see the reality of Crucian life and history from the street level.
"It's an effort to project heritage and nature tourism as the primary focus of tourism on the island," Jackson said, "We're using God's gift to St. Croix as a tourism focus."
Tour guides underwent three weeks of training, utilizing the knowledge of local historian Sen. Wayne James, Jackson said. The material has been recorded on DVD, he added, and will be made available to local schools.
By "polishing up our professionalism" and offering visitors the kind of experience they're looking for, "We can become the number one heritage and nature tour destination in not only the Caribbean, but maybe the world," Jackson said.
Saturday morning's tour was a 90-minute loop starting at the old customs house at the Frederiksted pier that continued up into the older neighborhoods of the town, including the Moravian Church, the Danish School, ending at the fort.
Organizers said that they scored a major breakthrough by arranging with the cruise ships to offer registration for the tours on the ship rather than catching interested tourists when they disembark. It has made the difference between waiting for customers to come to you and going out to get them.
Brad Nugent of the Department of Tourism said St. Croix is learning from its experiences and mistakes in catering to tourists. Last year there were some "bumps" when tour ships first returned to St. Croix after a three-year absence. Some tourists expressed disappointment with aspects of their visit.
"We have to be honest with ourselves and listen to our customers," he said.
And Saturday's tours, while a good start, left room for improvements, some tour members said. Overall they were pleased with the tour, but thought there were a few more bumps to iron out.
Lesbia Perez, from Puerto Rico, said she and her daughter enjoyed the tour, but were frustrated because her daughter speaks no English. Perez translated as much as possible for her, but it was impossible to keep up. Either offering a bilingual tour or making it clear that it was in English only would have been helpful, she said.
And the Petersen family from Denmark thought the tour could have been better organized.
Tour guide Asta Williams "was very knowledgeable and there's a lot of beautiful things to see," said Peter Petersen. "But they could have done a better job of walking 'with' the tour, and gathering everybody before they started talking."
Those interested in learning more about the walking tours or about how to become trained as a tour guide can call the CHANT office at 719-5455.