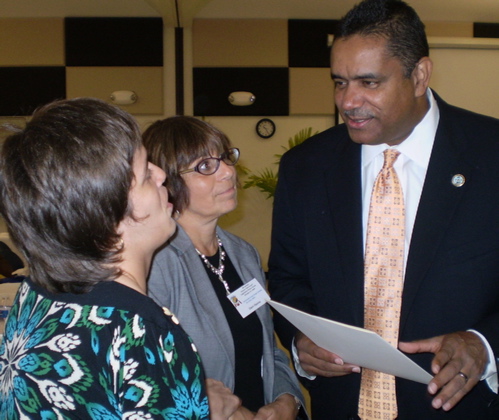 People with disabilities, advocates, parents, caretakers, policy makers and service providers had the chance to speak out at the "Voices That Count" forum Wednesday.
More than 60 people attended the free forum held at the Great Hall on the St. Croix campus of UVI with the hopes of improving the lives of people with disabilities.
The sixth annual forum was sponsored by the University of the Virgin Islands and the Virgin Islands University Center for Excellence in Developmental Disabilities.
Gerri Hanna, assistant director of VIUCEDD, said they hope concrete recommendations they can advocate for come out of Wednesday's call for action.
Roundtable discussions were focused on a series of specific issues: compliance and accessible handicap parking, effective emergency preparedness, making homes visitable, and improving school inclusiveness.
Hanna led the group discussion on compliance with the Americans With Disabilities Act and specifications on handicap parking issues. Participants talked about enforcement by local authorities on the design specifics such as sizes of parking spaces and signs in public and private parking areas. They also said there should be more stringent ticketing of vehicles parked in handicap space without valid permits. Hanna talked about prohibiting physician abuse of referrals of parking permits to non-qualified individuals.
Carmen Huertas, vice president of the board of VIUCEDD, and Shammi Carr, program coordinator, led the discussion on emergency preparedness for people with disabilities.
The major concern voiced by the group was how to identify and locate people with disabilities, in particular those who live alone. The group decided work needs to be done with the Virgin Islands Territorial Emergency Management Agency on mapping and putting together a master list of people with disabilities. The group consensus was that training is needed for emergency responders for people with special needs. Huertas said it was important for individuals with disabilities to prepare themselves for emergencies.
"Have a bag packed and ready at all times with a change of clothes and medication," Huertas said.
Mark Vinzant, of the V.I. Coalition for Visitability, led the discussions on making homes visitable.
Vinzant said "visitability" is a national movement to upgrade home construction with features that allow people with mobility limitations to remain in their own homes and visit other homes. He said these features include accessible entrances, interiors and bathrooms. Vinzant added the coalition is proposing legislation providing incentives for homeowners who provide access features. The incentive would be for the homeowner to receive a 20 percent deduction on property tax for 10 years.
The session on improving school inclusiveness was led by Carl Cole, assistant director of VIUCEDD.
He said inclusion is when children with learning disabilities spend time in a regular classroom.
"Inclusion can work with resources, training and staffing," Cole said. "Parents have to be voices and advocates for their children. Put the 'I' back in the Individual Education Plan, don't settle for a generic IEP."
Keynote speaker for the forum was Maurice L. Jordan, deputy director of Paralyzed Veterans of America.
Welcoming remarks were made by Gov. John deJongh Jr., Lt. Gov. Gregory Francis, and Sen. Samuel Sanes,
DeJongh said the government has made sure to incorporate programs and initiatives that support the disabled. He mentioned success stories in the Departments of Education, Health, Human Services and Labor.
"We will address the areas where we do well and the areas where we need to do better. We must be proactive in addressing early educational and developmental needs so that every disabled child and adult may have a quality of life and a range of opportunities that we can all be proud of," deJongh said. "This forum is a chance to hear from those who are affected and to reach out to the nearly 26,000 people affected."
The audience was excited when Stephanie Barnes, advocate and one of the organizers of the forum, said deJongh would like to hire an ADA coordinator. The federally-mandated coordinator would work as a liaison between the disabled community, agencies and the government.
"The whole idea of the forum is to involve people with disabilities to advocate for themselves bringing them together face to face and find solutions," said Yegin Habtes, executive director of VIUCEDD. "Change must come from within and the disabled advocating for themselves."
A similar forum will be held Friday at the UVI Administrative Conference Center on St. Thomas.
Further information can be obtained by calling 693-1322.