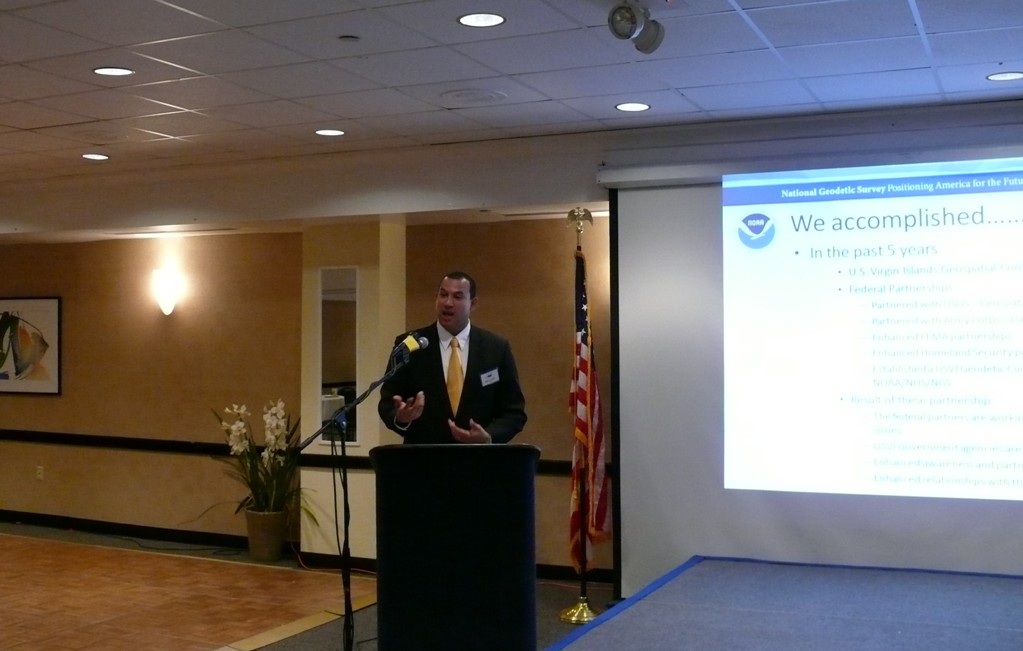 While Geographic Information Systems (GIS) computer software is invaluable in making interactive maps of utility lines, 911 addresses and much more, the technology's greatest contribution will be enabling local governments to reliably make sound information-based decisions.
That's according to speakers at the fifth annual Virgin Islands GIS Conference held Wednesday at Divi Carina Bay Resort.
During the conference's first day, speaker after speaker talked about the myriad uses of the software: mapping sensitive coral reefs, census data, flood hazard maps, real property cadastral maps, crime patterns, public transportation use and nearly any kind of information that has any sort of spatial or geographic distribution component.
But speaker after speaker also emphasized that expanding the use of GIS software increased the volume of data being collected and forced a standardization in the format of the data that was making apples-to-apples comparisons—between different islands, populations and countries—possible for the first time.
And ready access to this sort of data, while handy, was invaluable in helping local governments and agencies make decisions and plans based, not on guesses and supposition, but on an unprecedented degree of accuracy and depth of information. And it makes true regional coordination possible like never before.
Eric Linzey, a native Virgin Islander who works with the National Oceanographic and Atmospheric Administration (NOAA), said new, super-accurate mapping information for the Virgin Islands was becoming available, with highly accurate aerial photography joined by GIS with super-accurate longitude, latitude and height information from fixed benchmarks and constantly updated satellite information.
The territory's mapping data is becoming more detailed and accurate by leaps and bounds, whether one is talking about flood hazard mapping or utility line locations, Linzey said. But this information explosion will also be brought to the wider region, with Puerto Rico and the Virgin Islands playing key roles.
"Right now almost every Caribbean government has a different standard for collecting data," Linzey said. "So when NOAA looks at the data, sometimes we cannot ingest it."
But NOAA and other U.S. government agencies are working with other Caribbean nations to help their data collection, which in turn helps broaden NOAA's data resources. And once the data is collected, it is easily accessible and readily available not just to the U.S. government but to its regional partners.
Puerto Rico and the U.S. Virgin Islands are under U.S. law and jurisdiction. Yet in other senses–geographically, demographically and environmentally–they are part of the wider Caribbean.
St. Thomas has more in common with Tortola, from an environmental and demographic perspective, than it does with Duluth, Minn., for instance; and the data sets are really regional. So information of value to one island's agencies is valuable to the other.
"Essentially, we all have the same issues because we are all in the same environment," Linzey said. "We all need to know what is really going on, not just to know but to improve our decision making. … The long-term vision of this is to improve the governments' decision-making models."
In her keynote address, Joan Harrigan-Farrelly, an official with the U.S. Environmental Protection Agency, made similar points, about the broad usefulness of GIS as a tool for increasing transparency and putting more information at the fingertips of decision makers.
"I don't want to hear the same excuses about how we don't have money. I want to hear people say: 'This is the way forward from where we are right now,'" Harrigan-Farrelly said.
The GIS project in the territory was launched under the supervision of former Lt. Gov. Vargrave Richards, who also sought to use the network to connect the many smaller entities included under the umbrella of the lieutenant governor's office. Lt. Gov. Gregory Francis has continued to push to broaden the system.
The conference continues Thursday and Friday.