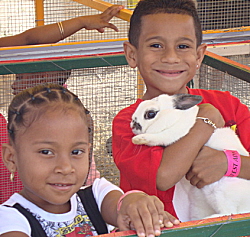 Farmers depend on the cooperation of Mother Nature to provide the right conditions for growing food, and the same held true Saturday for the first day of the 39th annual St. Croix Agrifest, with plenty of sunshine and warm breezes welcoming thousands to the festival grounds.
The AgFest is one of St. Croix's favorite annual events – perhaps second only to the Christmas Carnival, and the 39th edition had something for everyone. There were booths, games for the kids, exhibitions of farm animals, local crafts and goods, displays by the University of the Virgin Islands, schools and many government and non-profit agencies, music, and food.
Lots and lots of food. The food area was crowded with booths featuring the whole range of local cuisine and traditional festival foods – everything from pate and roast pork to popcorn and ice cream. And on the opposite side, there was booth after booth of fresh, locally grown produce fulfilling this year's festival theme: "Healthy Food and a Safe Environment Make Sense." In their area, the Boy Scouts of Troop 227 were stirring up their hot lunch over coals.
At the V.I. Lottery booth, grownups were buying their usual tickets, but there was something going on for the kids as well. Children were lining up for a drawing to win a laptop computer. At the end of each day of the festival the Lottery will hold a drawing and one lucky kid will be going home with a computer.
It's part of reminding people that the Lottery is a major contributor to education in the islands, according to spokesman A.C. Burgess.
"The Lottery has always supported education," Burgess said. Since 2004 more than $1.5 million has gone to a variety of educational projects. "We focus mostly on the arts becausre they're usually the first thing to get cut, but we support a lot of science and math as well."
Children signing up for a chance to win one of the laptops must be accompanied by a parent.
While there were plenty of things for people to take home, there was also an opportunity to give back. At the Virgin Islands National Guard tent, members were accepting donations of non-perishable food and cash donations to send to the territory's Guardsmen posted overseas at Kosovo and Guantanamo Bay. VING hopes to send 200 care packages, which have to be wrapped and shipped, and residents can volunteer to take some time out of their fair visit to help wrap them.
Farmers are "risk takers," Gov. John deJongh said during the festival's opening ceremony. Their success is dependent on many factors out of their control, the weather, markets and prices, to name just a few. But they count on their own energy and resourcefulness to produce food that helps sustain the community.
During the ceremony, St. Croix's Oswald Jackson was named farmer of the year, the fourth time he has taken home that honor.
Jackson was unable to attend Saturday's ceremony, but in remarks he wrote that were delivered by his friend Stafford Crossman, he talked about coming to St. Croix with the intention of earning a living as a carpenter until one day, "I heard a voice from the land calling me."
"God has blessed me with the gift of farming," he wrote.
Every year, the fairgrounds and each pavilion are renamed to honor people who have made a mark in agriculture, cooking and supporting the festival. This year, the fairgrounds are named for Otis Hicks, a retired St. Croix teacher who was instrumental in the local chapter of Future Farmers of America and continually supported agricultural education in the schools' curriculum..
The farmer's market is named for Aberra Bulbulla, a UVI professor and four-time winner of farmer of the year. The animal pavilion is named for veterinarian Duke Deller, who is retired from the Agriculture Department, while the food pavilion takes the name of noted local pastry and candy maker Laverne Bates.
The festival will continue from 9 a.m. to 6 p.m. Sunday and Monday. Admission is $6 for adults, $3 for children and $4 for seniors. Agrifest 2010 posters and programs are $5, and T-shirts cost $12.