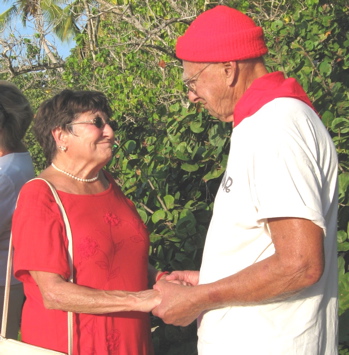 As they have been for many years, St. John snowbirds John and Barbara Achzet were the longest-married couple at the eighth annual Valentine's Day vow renewal ceremony at Trunk Bay.
The two, who call Penn Yan, N.Y., home during the summer, have been married 62 years.
The secret to their success?
"It's saying yes and being agreeable," John Achzet, 82, said.
Indeed, he had on his "Yes Dear" T-shirt.
Barbara Achzet, 81, suggested that give and take was the key to a long marriage.
"If some younger people would do this more, there wouldn't be so many divorces," she said.
Another long-married couple, Tom and Joanne Brown of Hilton Head, N.C., agreed that reaffirming their vows was a good thing. They've been married 45 years.
"And it's a beautiful setting for this," she said of the Trunk Bay location.
Larry and Jo Etler of Moville, Iowa, tried to renew their vows several years ago at the Valentine's Day ceremony but didn't get to Trunk Bay on time. They've been married 42 years.
"We thought it was time to renew them," Larry Etler said.
Nedra and Joe Fetterman of Bryn Mawr, Pa. honeymooned on St. John after their wedding 30 years ago. Nedra Fetterman said she thought it was fitting to renew their vows because she's a marriage therapist.
"I thought how amazing it would be to see people renew their vows," she said.
Kathy Dove, who organized the event with non-denominational minister Anne Marie Porter, called marriage a work in progress.
"But the key word is work," she said.
Dove and Porter started the Valentine's Day vow renewal ceremony to show the island's youth that marriage works, Dove said.
While the two had no official count of how many couples have renewed their vows, about 100 people attended. Most were visitors, but a good smattering of residents also were on hand.
St. John residents Laurel Brannick and her husband, Marc Bigrigg, came for a new beginning after a year filled with issues.
"We want to start the year right," Bigrigg said.
Showing off a new wedding ring, Brannick called her husband sweet.
"I love her dearly," he responded.
Shelley Letendre of Waconia, Minn., wore her wedding gown to renew her vows with her husband of two years, Marek Grubecki.
"It shouldn't be a one-time use," she said of the reason she opted to wear it for the vow renewal ceremony.
Marilyn and Darius Vanterpool have been married 17 years. He is a St. Thomas native who now lives with his wife in Los Angeles.
"We thought it would be a good idea to renew our vows and reaffirm our love," Marilyn Vanterpool said.
Several couples came out for the ceremony because they were married on St. John.
"Fifteen years ago last Tuesday. There's really no better place to get married," Kathy Kennedy of Wheeling, W. Va. said of her marriage to Bain Kennedy.