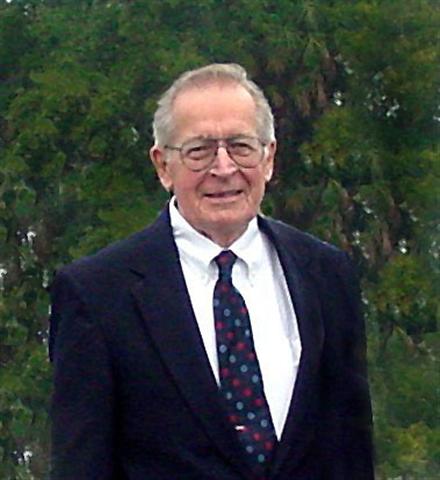 Richard Grunert, a pillar of the St. Thomas law community for more than 40 years, died Feb. 11 in the states, where he had moved after retiring from his law practice on St. Thomas a few years ago. Grunert was 82.
John Stout, Grunert's close friend and law partner, recalled his memories of Grunert. "He came to the island in the early sixties," Stout said. "He was working at a leading Wall Street law firm, when a colleague suggested he move to St. Thomas with him. Dick was ready for a change, so he made the move. After a while, the friend returned to the states, but Dick stayed. The sand had gotten in his shoes, he loved the island."
Stout said, "Dick practiced law with attorneys Joseph McGowan, George Dudley Sr. and Louis Hoffman, who later became a judge. After McGowan left in 1968, Dick came to me and we formed Grunert and Stout, the beginning of a long line of Grunert and Stout partnerships, which continued in our law offices on Government Hill until 2004."
The partnership included some of the most well-known legal names in the community, including former partners James Hymes, John Mayer, Henry Smock, Susan Bruch Moorehead, retired Judge Thomas Moore and Treston Moore.
Stout emphasized Grunert's strength of character. "He was very highly respected among members of the bar and his many clients and friends, for his outstanding intelligence, legal knowledge and insight, and agreeable disposition."
Stout quoted the words of one local attorney: "Dick's handshake agreement was better than a signed and notarized agreement from many others."
Deeply concerned about individual rights throughout his career, Grunert was a "staunch member" and financial supporter of the ACLU (American Civil Liberties Union), Stout said.
Reflecting on his old friend, Stout said, "We were partners for well over 30 years, and we never had an argument—something I attribute to his disposition, not mine."
Grunert graduated from the University of Minnesota law School with honors, after which he served as law clerk with the Minnesota Supreme Court. He then moved on to New York, prior to his move to St. Thomas.
He is survived by his daughter Carol Richardson; grandson Lt. Robert Molard of Water Island, (currently deployed to Afghanistan as an Army helicopter pilot); stepson Lee Comninos of St. Thomas; grandson Sean Comninos; granddaughter Amanda Cominos; and sister-in-law Lorraine Grunert.
Grunert was predeceased by his wife, June, formerly of St. Thomas.
Final funeral arrangements are pending.