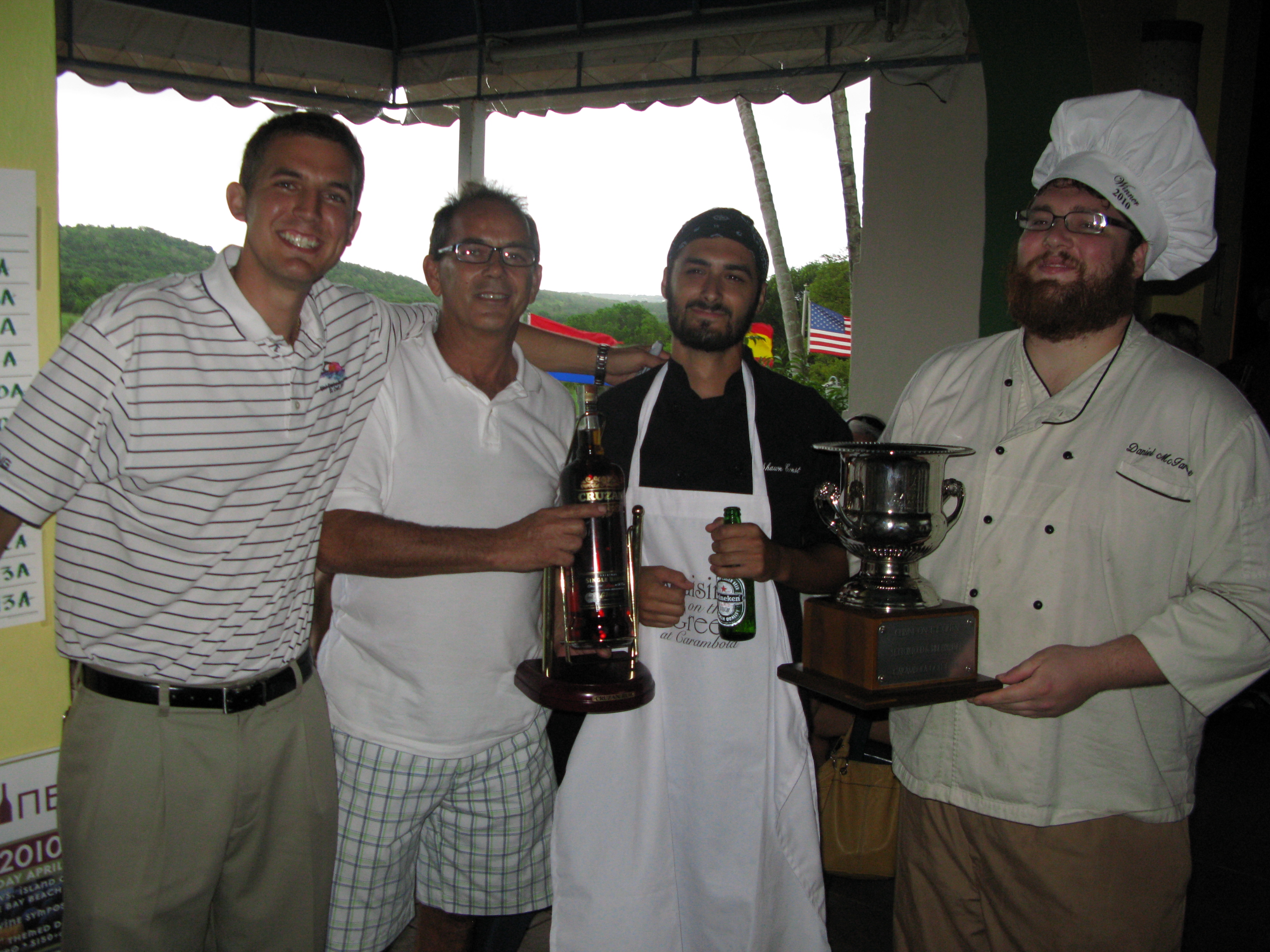 The 10th Annual Taste of St. Croix and St. Croix Food & Wine Experience wrapped up its week of events on Sunday, April 18, with its newest addition: Cuisine on the Green at Carambola Golf, which is a brand new golf and fine food event featuring an 18-hole golf tournament with tasting and beverage stations set up throughout the golf course, so golfers could sample the creative specialties of some of St. Croix's excellent restaurants while enjoying a competitive round of golf. Two-person teams signed up to play in the scramble and sample the featured dishes and beverages, with each participating restaurant also contributing a two-person team to the event. This meant golfers got to play alongside the chefs responsible for the delicious food, and chefs and regular golfers alike had the chance to win the golf portion of the event as well as be voted the best restaurant.
Competition was hot and heavy both on the course as well as behind the grills and serving stations after the 10:15 a.m. shotgun start. Lori Hubbard and Paul Giordano of the 19th hole at Carambola provided a bloody mary bar with shrimp cocktail and an assortment of homemade muffins before tee off and a sumptuous dessert buffet for the awards ceremony as beverages on each hole and tasting stations for each of their restaurants, including the Blue Water Terrace & Market opening soon on the East End. Chuck Vouros, owner of No Bones Café in Gallows Bay, played with Jeff Lee to represent the restaurant, and No Bones' succulent curried conch and johnny cakes brought some delicious local flavor to the event. Mike McKinnon, owner of Dashi, who won for best dessert and best presentation at the Taste of St. Croix on Thursday, was unable to play in the event but sent a fabulous assortment of sushi and saki with his golf team. The Waves at Cane Bay's team of owners, Laura Hyland and Aaron Goldberg, sported matching Team Waves golf shirts, and The Waves tasting station, under a white tent on hole No. 4, offered delicious lollipop lamb chops and decadent individual key lime parfaits. A new addition to St. Croix's panoply of eating establishments, Tavern 1844, on Company Street in Christiansted, was a hit with salmon cakes served with a lemon-lime-dill remoulade and spicy micro-greens at its station just off the green on hole No. 11. Tavern 1844 owner Joe Gerace, also owner of the adjacent Club 54, and teammate Willy Bremmer represented the Tavern on the course. Chef Eric Nielson of Christiansted's eclectic Savant provided creative and tasty chicken lollipops, and North Shore beachside favorite Eat at Cane Bay also stepped up, with owner and Taste of St. Croix founder Katherine Pugliese providing local ceviche.
Dave Kendrick teamed with Jackie Holt to represent Christiansted favorite Kendrick's for the golf, but Kendrick's prowess really shone at the tasting station on hole No. 15, with fabulous sesame tuna tartare on a fried wonton and sautéed fresh local mahi and baby greens in a homemade crepe. Though the vote was close due to so many delicious offerings on the course, Kendrick's won the popular vote for best food on the course and took home the silver cup perpetual trophy to display at the restaurant for the next year. Though the competition for best restaurant was fierce, the golf was even tougher. After a hard day of eating, drinking and golfing, the scores were tallied. Doug and Mae Menzies came in 3rd place, Jennifer Hautman and Ed Gittens came in 2nd place, and the 1st place prize went to the team of Bill Weatherwax and Dave Follman. Each winner received a magnum of Cruzan Single Barrel in a pour stand along with gift certificates to local restaurants, and first prize also received a night at Carambola Beach Resort.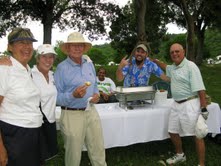 This event was not all fun, games, eating and drinking, though. Its serious purpose was to benefit the St. Croix Foundation, a 501(c)3 nonprofit community foundation started in 1990 that administers a number of local programs in its mission of fostering economic and social development on St. Croix and throughout the territory. The Taste of St. Croix was started as a benefit for the charity in 2001 by restaurateurs Katherine Pugliese, original owner of Bacchus and now the owner of Eat at Cane Bay, and Kelly Odom of Tutto Bene. The popular St. Croix Food & Wine Experience is recognized as the premier food and wine event in the Caribbean and was voted by Forbes Travel.com as one of the Ten Best International Food and Wine Festivals in 2009.