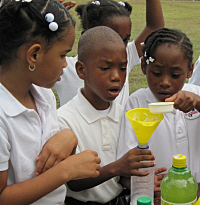 St. John celebrated the 40th anniversary of Earth Day with an environmental fair in the V.I. National Park Ballfield sponsored by the Friends of the Park.
"Green is not just a color. It's a way of thinking," Friends program manager Audrey Penn said, taking a break from keeping the fair organized.
While the skies were cloudy and the rain occasionally spritzed, it didn't dampen the enthusiasm of the youths from various St. John schools who attended. Penn said she expected about 700 students to attend.
Kids from the St. John Christian Academy were involved in a contest sponsored by V.I. Environmental Resource Center to see who could blow up a balloon first using baking soda and vinegar mixed in a plastic bottle to make a gas.
At other tables, youths decorated recycled paper, watched cookies bake in a solar oven, and learned about coral reefs.
"How do they affect the shoreline?" Heather Hitt, an outreach coordinator at the Planning and Natural Resources Department, asked the students.
About 15 organizations set up tables around the perimeter of the field to get the Earth Day message out. Many, including the Friends group, focused on cutting down on the amount of garbage that goes into the landfill.
"These are BPA-free bottles," Penn said, gesturing to a table filled with colorful plastic bottles the Friends handed out to students and others who attended the Earth Day fair.
The bottles were paid for by an anonymous donor in hopes of convincing St. John residents to reuse water bottles instead of throwing empty plastic bottles in the garbage, Penn said.
Further up the field, Carlos Robles, an extension specialist at the University of the Virgin Island's Extension Service, showed how yard waste becomes compost.
"Forty to 50 percent of the waste at the landfill is yard waste. Bagging it up is totally unnecessary," Robles said.
He suggested that if people have the room, they just leave the waste to decompose on its own at the side of the yard. Otherwise, they can compost it, which takes a little more effort.
At an adjacent table, Dale Morton, an extension specialist at UVI's Extension Service, had set up more than a dozen bottles of eco-friendly cleaners available at supermarkets and stores in the Virgin Islands.
"But borax is a natural element that makes a good multi-purpose cleaner," Morton said.
The U.S. Environmental Protection Agency also was on hand. "We're promoting recycling more than ever," Keshema Webbe, a life scientist at EPA, said.
She had suggestions for reusing CDs. Make them into wind chimes or use them as coasters, she said.
Elvis Sprauve, a St. John parent whose child was at the fair, checked out the small electric car on display.
With a big interest in alternative energy, Sprauve said he thought the car's small size would be perfect for traveling around Cruz Bay.