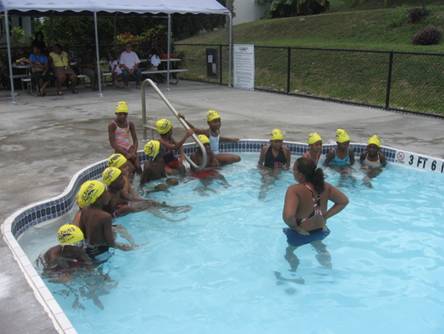 Salsabeal Abdullah and Jessica Aloyo, third grade students at Pearl B. Larsen School, when asked why they like to learn how to swim respond, "I like to learn to swim so that when I go to the beach I can go by myself without my parents help and I won't drown." It's a wonderful reason to learn, and many kids feel the same. Bryana Ferguson of Eulalie Rivera School wants not only to learn so she can be safe but also so, "I can save my brother's life if he started to drown."
The St. Croix Dolphins swim team has been working with local public schools for the past four years teaching children how to swim. Ten third grade classrooms from the Eulalie Rivera, Ricardo Richards, Charles H. Emmanuel and Pearl B. Larsen schools visit the Dolphin Pool at Country Day School each week to learn how to be safe and comfortable in the water. The program is funded by a grant from Innovative Company, and there is no cost to the children or schools involved. The St. Croix Country Day School donates the use of their pool and facilities and the St. Croix Dolphins staff and volunteers teach the lessons.
Dolphins Learn to Swim Director Kie Ransom feels fortunate to be able to provide the service. "Teaching these swimmers is such a joy. From the time we pick them up in our Dolphins van at their school to the time we bring them back the kids are always having fun." "Our time in the pool has been productive this year and numerous swimmers new to the water can now swim a length of the teaching pool using the freestyle stroke. We work on teaching life saving techniques and our philosophy is paying off. More importantly, the kids feel proud of their achievements and feel great about them."
Since Nov. 1, 150 swimmers have taken swimming lessons. This year the Dolphins have been able to double their classes because of the grant from the Innovative Company. The focus of the classes is to teach floating, water safety and the competitive strokes of freestyle and backstroke.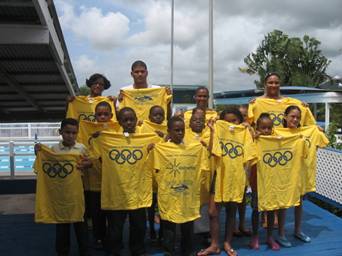 Rich Carter, president of the Dolphins Board of Directors said, "We also want to encourage kids to consider joining our swim team. Swimming teaches kids responsibility, caring, honesty, teamwork and respect in a safe atmosphere where you can learn to be a successful human being in life. Our team travels all over the Caribbean and we see many different cultures. It is a life changing sport.
Anyone interested in the program or looking for information about the Dolphins team or lessons, please call the Dolphins office at 719-7946 or e-mail Kie Ransom at stxdolphins@islands.vi . Check out the Web site www.dolphinsvi.org for cost, days and times of lessons. Confidential financial assistance is available.