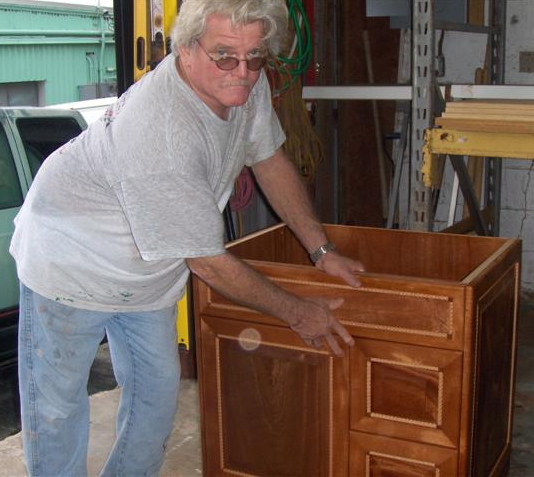 Andrew Watts glances around his spacious workshop, fresh with the smell of raw wood, chock full of wood-working equipment – lathes, saws, clamps.
Gesturing at the surroundings, from his corner office, he says, "I've been at this since I was 16, in high school. I worked with my brother-in-law at construction jobs and I just took right to carpentry, not one of those things I gravitated to."
Nothing has changed in the intervening decades.
"I'm still at it," he says with a laugh. "I'm a woodworker."
Watts learned carpentry kind of seat of the pants, so to speak. "No trade school, no formal training," he says.
And. it's worked.
He opened Inter Island Woodworking on island in 2005. Allowing that owning one's own business is a lot of work, he takes obvious enjoyment in the endeavor which he runs with one employee, Michael Fallon, who has been there almost from the start.
Fallon is busy at a far counter remodeling a wine rack. He interrupts his work for a question to Watts, a brief nod, an introduction. It seems obvious the two work well together.
"Everything is hand-made," Watts says. "Each piece that goes out the door is the very best quality we can produce."
And that quality, from all indications, sells itself – all custom-made solid wood workmanship..
Watts says his business is word-of-mouth, a claim lots of businesses must wish they could make.
"I don't do any advertising, and that keeps costs down," he says "We have lots of repeat business. I tell people I'm not a salesman; I'm a cabinet maker and a carpenter. I'm a hands-on guy."
With that, Watts offers a tour of the 3,000 square foot premises, to see just what he is talking about.
First, there is a stack of cherry-wood planks lined up at the front of one of the three bays.
"This is were we start," he says. The planks aren't very wide. "You don't want to use wider wood," he says. "It tends to warp." He picks up a mahogany cabinet door, beautifully fused together. "You cannot see the seam," he points out. And, indeed, you can't.
Next is a machine that evens out the lumber.
"Look at this," he says, hefting a piece of cherry wood, "See, the wood goes up and down. It's not even. And this," he says, pointing to another serious-looking machine, "planes the lumber out. It evens it out on the top – you repeat this until it drops down flat. It's a surface planer."
Next over to a room, closed off on the far side.
"This is where we varnish the parts. We pre-finish all of our parts, before assembly."
Watts moved to St. Thomas from Florida in 1989 after Hurricane Hugo, when construction work was plentiful.
"I worked for local contractors for years, then proceeded on my own with independent jobs," he says. "I had a little office in the GlassRays building in 2003, across from the Frenchtown post office. But, I needed a bigger place. I kept looking until I heard about this in 2005."
Watts is happy with the location.
"The business evolves," he says, "I've expanded since we moved in, now we have all three bays." He accepts jobs on all three islands.
As he talks, Watts' embrace of a challenge is evident.
"Each morning when I come in, I never know what's going to hit me," he says. "And that's fine with me."
Equally evident is the pride he takes in his work.
"I find solutions to storage problems, structural fixes, remodeling. It's high-end work," he says. "The business is a mix of commercial and residential.
Just about all the wood Watts buys is commercial grade mahogany, along with other hard woods such as cherry, which he gets off-island.
It isn't legal to use local mahogany, Watts says, but occasionally he is able to get some, for instance, if a tree has to come down in a road project.
"It's so nice to get it from time to time," Watts says. "I love to work with it because it makes really beautiful pieces. It's a much richer, denser wood grain. We have a piece at home that I made, entertainment center."
We is Watts and his wife, Bonnie Watts, who added a touch of humor to the business in picking his e-mail address – wattshappening2005@hotmail.com.
At the end of the day, Watts says, "Half the battle is doing what you say you're going to do when you say it." He smiles, "All the rest is cream."
Inter Island Woodworking can be reached at 777-5399 or 514-2103.