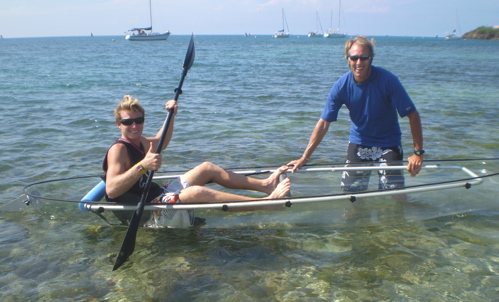 Are you creeped out by big fish, or feel claustrophobic underwater with a diving mask, fogging and leaking, strapped to your face, but still yearn to see what's under the sea?
Sitting safely and comfortably in a totally crystal-clear kayak is the coolest new way to explore Neptune's undersea garden on St. Croix.
Craig and Bryce Scott, father and son owners of Sea-Thru Clear Kayak Adventures, take you where you can see dolphins, sting rays, sea turtles, star fish, and more – yet you barely get wet.
The kayak is astonishingly clear and appears to magnify things in the water as a mask does. Craig says you can see "deh" critters, but there is clear tough material between you and them.
Bryce says he thought there had to be a better way to see it all other than the small window in a glass bottom boat, so they did some research and found the kayaks.
"We thought it would be cool to do clear kayak tours in the clear blue waters of St. Croix," Bryce says. The two had worked together before in Craig's surf business in Hawaii, when Bryce was attending college there.
The Scotts recently purchased 10 Molokinis, an all-transparent two- passenger kayak made out of the same durable polycarbonate material used in the production of bulletproof glass and fighter jet canopies. It has an anodized aluminum frame with ergonomically designed seats that are supportive, comfortable, and adjustable. The kayak has won design awards from The Museum of Modern Art and Smithsonian Institution and a "coolest inventions" award by "Time."
Bryce, who has worked for other kayak tour operators, says with his tour you get a little history, ecology, geology, and more.
"Bryce is just amazing with what he knows about the local environment," Craig says. "He just blows my doors off."
Bryce takes folks from ages 5 to 105 on two-hour tours of the mangrove forests at Altoona Lagoon, or the "Wall" on Cane Bay with visibility of 70 feet down. The day tours, from 8:30 to 10:30 a.m., are island wide at different ecosystems chosen by Bryce depending on the wave action.
A special highlight of their tours is the bioluminescent bay at Salt River. Bryce says there has to be a certain combination of factors to see the stunning light show seen under and all around you while kayaking. The night tours are from 6:30 to 8:30 p.m., but tour schedules and locations are subject to change due to weather conditions. Craig said they recently took a group on-island for a wedding and they flipped when they saw the bioluminescent bay.
The Scott family moved to St. Croix from New York in the early 1980s. Bryce was a little beach bum at the heels of his dad surfing, or exploring under and above water and collecting stuff he found with his grandpa, Emil Gundelach, a commercial diver.
"I was always an out doors kid," Bryce says. "I loved nature and life outside and still do."
Further information is available and tours can be scheduled by calling 244-8696 or sending e-mail to seathrukayaksvi@gmail.com.
The Scotts are the only authorized dealers of the kayaks in the U.S. Virgin Islands.