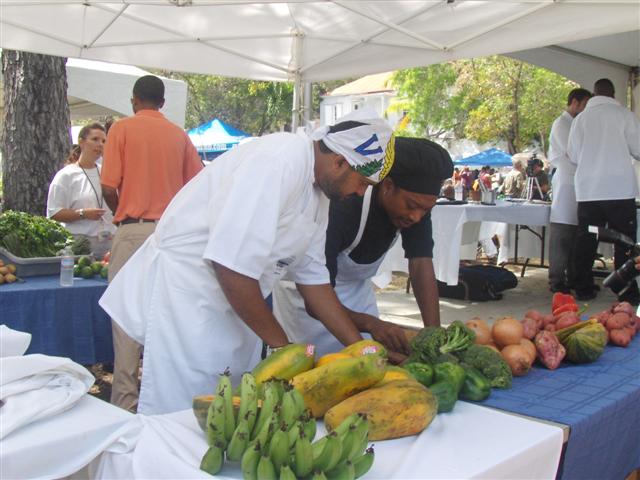 With "Ready, set – choose, chop, mince, marinate," or words to that effect, the Ultimate Chef Challenge was off Wednesday afternoon.
It was the second year for the competition, the first of its kind on St. Thomas, which included chefs from St. Thomas, St. Croix, St. John and Virgin Gorda.
"It's so much better this year," said Terri Brown of MLB Creative, the agency managing the event for Banco Popular. "Last year, we were in the street."
This year the contest was staged on the lawn in front of Fort Christian, complete with music from the St. Thomas All Stars Steele Orchestra, seating for a hundred, and a separate tent for the judges: Patricia LaCorte, Lori Abbots, Mark Burden and Larry Nibbs.
The chefs' tent was neatly lined with six stations in immaculate white table cloths, and all the implements one could imagine, including brand new Cuisinart cooking sets.
The challenge began at 2 p.m. After a brief opening ceremony conducted by Oran Bowry, Banco Popular regional vice president, each of the six entrants began at 10-minute staggered intervals.
As each name was called, the chef darted down to the far end of the tent where produce supplied by the Department of Agriculture was there for the taking – beautiful ripe papayas, green bananas, fresh basil, thyme, lemon grass, piles of potatoes, sweet potatoes, onions, broccoli, avocados, tomatoes, coconuts and local honeys.
Another table was laden with items including wines, cognacs, corn meal, canned pigeon peas, and spices of every persuasion.
The chefs made quick decisions, gathered up their ingredients and went to work.
The culinary competitors were required to make one dish from snapper and one chicken entree. Each dish had to include papaya and lemon grass.
Brown was delighted. "We have assembled our dream team," she said of the chefs:
– Erica Miner, executive chef, St. John Water Front Bistro,
– Elvert Carty, chef de cuisine, Herve Restaurant & Bar, St. Thomas,
– Vincent Russo, executive chef, The Ritz-Carlton, St. Thomas,
– Ryan Burke, sous chef, Lobster Grille, St. Thomas,
– Negust Kaza, executive chef, Tutto Beni, St., Croix,
– Hermant Dadlani, executive chef, Rosewood Little Dix Bay, Virgin Gorda.
The judges, emcee Addie Ottley and at least 100 spectators followed the action closely as each chef worked with single-minded purpose. They had exactly one hour to come up with an elegant, creative presentation. And, on top of all that, it had to taste good.
It turned out the British Virgin Islands came closest to the judges' standards. Chef Dadlani took the top prize, $1,000 and a Versace platter; chef Russo took second place, $750 and a Versace dinner plate; and chef Miner took third, with $500 and a Versace salad plate.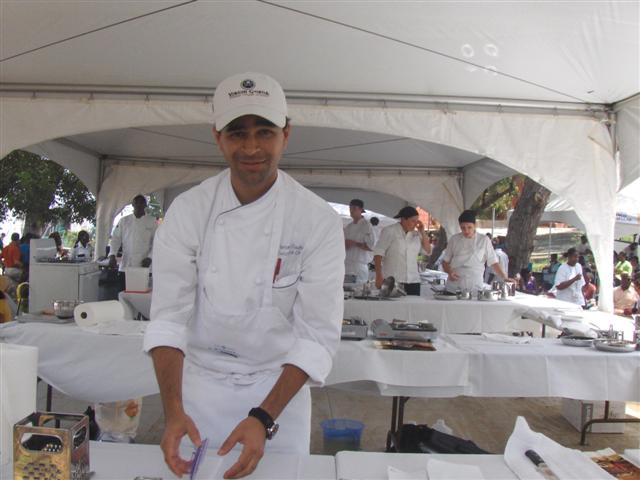 Judge Lori Abbots said the wining presentation was "particularly stunning, beautiful … snapper with a paper-thin slice of pineapple. It looked sort of like a jellyfish, or a sea fan."
She said the judges' sanitation was a big consideration in the judging this year. "We had to look closely to make certain the chefs were doing things like washing off their cutting boards after, say, chopping chicken. That can't be easy, cooking in these outside conditions."
One of the spectators remarked knowledgeably that the local chefs have an edge. "We are used to cooking when the power goes out; when the storms come, when we run out of water. We know how to do it."