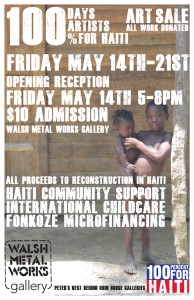 One hundred local and Caribbean artists are giving 100 percent of their proceeds from an art sale Friday at the Walsh Metal Works Gallery in Peter's Rest to benefit Haitian relief. The show that runs for a week is called "100 Days, 100 Artists, 100% for Haiti."
It is now more than 100 days since the worst earthquake disaster in history struck Haiti, the poorest country in the Western Hemisphere. Well over 100 artists have responded to a call from Mandy Thody, artist and organizer of the sale, to help the stricken island.
St. Croix has already responded to many requests to help Haiti, and V.I. artists—such as Janet Cook-Rutnik, Danica David, Elisa McKay, Bonnie Luria, Donald Diddams and others—want to do their part, too.
The opening reception is from 5 to 8 p.m. Friday with a $10 suggested entry donation. Wine, local juices, and music will be provided. The following week from 10 a.m. to 4 p.m. daily (except Sunday), admission is free.
All money raised will be shared among: Haiti Community Support of St. Croix, founded by Bruce and Mathilde Wilson, for its clinic work in Port-au-Prince; International Child Care for its latrine and sanitation programs; and micro-banking organization Fonkose, which supports and trains destitute women to become small business owners.
Mathilde Wilson, who is currently in Port-au-Prince, said the situation in Haiti in general continues to deteriorate for huge numbers of the poorest people. She added her organization is operating free primary care clinics in the camps in the quake areas and it is costly and difficult work.
"I am constantly seeing how a little support gets so much done here by working with Haitian people and helping them a bit," Mathilde Wilson said. "As Haiti Community Support continues to get support, we will keep getting medicine and care to displaced and sick people."
The St Croix Foundation is acting as the fiduciary on behalf of 100% for Haiti. For more information go to www.100percent4haiti.org and FaceBook page 100% for Haiti.