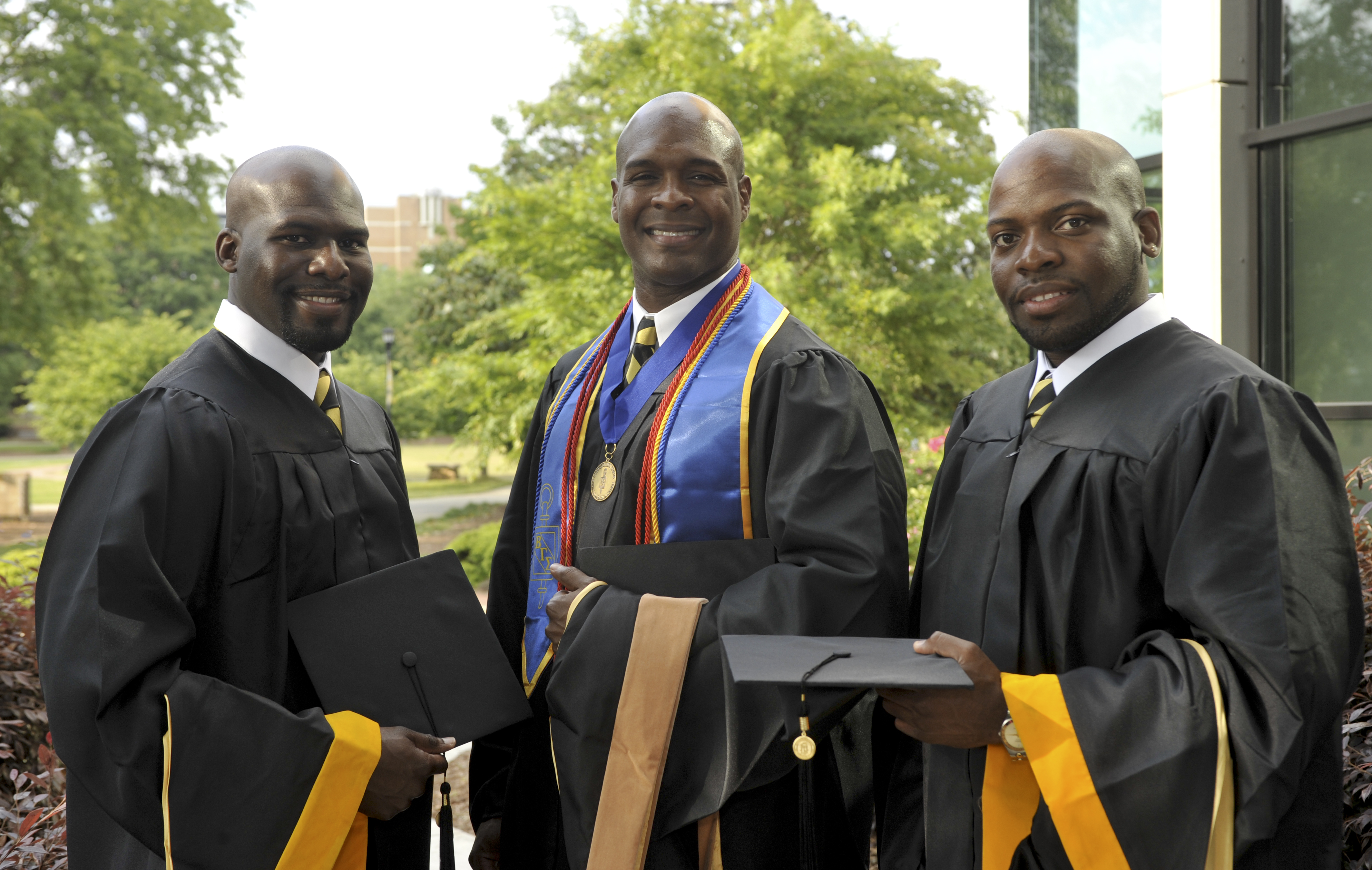 Miguel Tricoche arrived in metropolitan Atlanta in 2002 after serving in the Army. A few years later, his younger brother Matthew Walcott moved to Georgia for work. Then Leland Walcott, the middle brother, followed in their footsteps. The three brothers from the U.S. Virgin Islands have received graduate degrees from Kennesaw State University. Miguel, 38, earned an executive M.B.A.; Leland, 30, a Master of Science in Applied Computer Science; Matthew, 28, a Master of Science in Applied Statistics. They were among the 455 graduate students receiving master's degrees from KSU at the May 11th commencement, the university's 109th.
"It's the first time the three of us are doing something at the same time in terms of academics," says Leland. "We've never been in school all at the same time together."
The brothers, who grew up in St. Croix, all attended the University of the Virgin Islands in St. Thomas, but at different times. They did not plan to attend graduate school simultaneously when they moved to Georgia. But two years ago, one by one, they decided to go to grad school, and they all chose KSU. Last year, they realized they would be finishing their studies at the same time. "That's a coincidence," says Miguel.
Throughout it all, the brothers enjoyed their academic experiences at KSU. Leland secured a one-semester internship at Assurant, the insurance and employee benefits giant, working directly with the chief information officer, through the computer science program. He is now looking for a job. "It's an excellent program," Leland says of the computer science master's program. "It has a lot of practical applications because we did a lot of real-world projects in our classes."
Matthew is enrolling at Georgia State to get a graduate certificate in public health. He wants to work for the Centers for Disease Control and Prevention. The master's in statistics was great and prepared him to solve real-world statistical problems, he said. And Miguel, a university scholar who made the Beta Gamma Sigma honor society and graduated with honors, will keep working as a project manager for Insituform Technologies, a sewer and pipeline rehabilitation firm. He says he was impressed with how knowledgeable the Coles College of Business staff and faculty were. "The quality of the guest speakers [was great] and the access to the professors and staff made the program manageable," he adds.
Miguel, who also completed a managerial coaching certificate while pursuing his executive M.B.A., will continue to be involved with the Coles College of Business as team coach and individual coach with students of the class of 2012. He also plans on being an active member of the KSU Alumni Association.