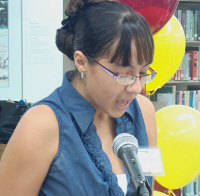 Surrounded by books, two dozen parents and friends gathered to congratulate nine students for their success in the first Virgin Islands Letters About Literature contest.
The competition, sponsored by the U.S.V.I.'s Division of Libraries' Center for the Book, is part of a national program by the Library of Congress. This was the first year students from the territory participated, and the award ceremony was held Saturday morning at the Florence Williams Public Library in Christiansted.
Each competing students wrote a letter to an author explaining how that person's work changed the young reader's way of thinking about the world or themselves. Students competed in three grade-level groups, from fourth through sixth, seventh through eighth and ninth through twelfth.
About a dozen school participated in this year's competition according to Ingrid A. Bough, territorial director of the Division of Libraries, Archives and Museums.
Local historian and poet Edgar Lake told the students that the Virgin Islands has an important and proud literary tradition and that they have taken their place in it.
"It's important to be a writer," he said. "We expect great things from you."
Lake ran through the history of the U.S. Virgin Island's contributions to literature, beginning with the "Hurricane Letter" written by a young Alexander Hamilton after St. Croix was devastated by a hurricane in 1772. This letter, penned by a young and sporadically education boy, is now required reading in programs at Harvard, Yale, Columbia and other universities.
Sarah Mahurt, the deputy commissioner of the Department of Education, welcomed the winners into "the literary club." Lovers of books, she said, are a club, "and part of your job is to bring others into it."
The winners in each grade-level group each won $100 cash, a $50 Target gift card (Target is a sponsor of the national contest,) a certificate and a reader's journal. Second and third place finishers received $50 cash, a journal and a certificate.
For further incentive to future contestants, Bough pointed out that at the national level prizes ranged as high as $10,000.
The winners, their school, and the author they wrote to are:
Level 1 – Grade 4-6: First place, Obasi D.E. Luke, Ricardo Richards Elementary sixth grader, wrote to J.K. Rowling, author of "Harry Potter and the Prisoner of Azkaban"; second, Chelsea Valery, Ricardo Richards fourth grader, wrote to Cindy Dawson Boyd, author of "Circle of Gold"; third, Shideya Parrilla, Ricardo Richards sixth grader, wrote to Judy Blume, author of "Tiger Eyes."
Level 2 – Grades 7-8: First place, Catherine Phelan, V.I. Montessori and International Academy eighth grader, for her letter to Ann Brashares, author of "Girls In Pants: The Third Summer of Sisterhood"; JahCira Hodge, V.I. Montessori and International Academy seventh grader, for her letter to S.E. Hinton, author of "The Outsiders"; Brianna Olive, V.I. Montessori and International Academy eighth grader, for her letter to Richard Wright, author of "Rite of Passage."
Level 3 – Grades 9-12: First place, Kristina Chadron, St. Joseph High School senior, for her letter to Julia Alverez, author of "In the Time of Butterflies"; Rochella Davis, St. Joseph High School senior, to Maya Angelou, author of "I Know Why the Caged Bird Sings"; and Angeles Cruz, St. Joseph High School senior, for his letter to Barbara Ehrenreich, author of "Nickel and Dimed."
The teachers of the winning students also came in for a round of praise. They were: Dr. ChenziRa Kahina of St. Joseph High School, Alison Steir, teacher, and the aptly named Betty Story, librarian, of the V.I. Montessori and International Academy, and Helena Stevens of Ricardo Richards Elementary School.
Pre-ceremony entertainment was provided by the Wind Ensemble of St. Croix Central High School.
Nationwide, more than 70,000 students competed in the Letters About Literature program. Bough said she intends for the territory to take part annually. The next year's competition will begin in August, she said, with the deadline for submissions in December.
Further information on the program can be found online at www.lettersaboutliterature.org or www.virginislandspubliclibraries.org.