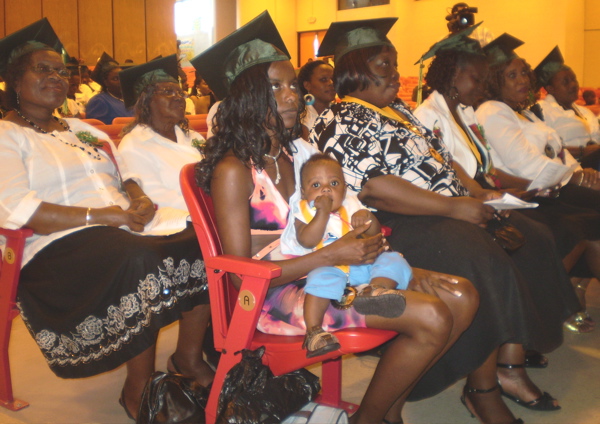 The commencement Sunday at John H. Woodson Jr. High School auditorium was like no other spring graduation. The graduates were male and female, young and old, and included moms with babies in their arms. They were the fifth graduating class of Parent University sponsored by the Department of Education.
The 76 graduates are parents and care givers committed to better child rearing and making a better community. The classes they attended this session were on gang violence, special education, and child psychology.
The commencement address was given by well known native Virgin Islander Devin "Dutchie" Robinson, a Daily News newspaper columnist, community activist, author, and Oglethorpe University professor. Robinson had also been arrested five times by the time he was 17.
Robinson told the graduates they were on the cutting edge with the concept of focusing on parents and not just children. He reminded them of their duty to create boundaries and to teach their children to be responsible. He said to provide children with the tools they need to learn, like books and tutors.
"Don't go on shopping sprees and vacations and then say you can't afford a tutor," Robinson said. "Don't tell them to read and not give them books."
He advised the parents to set good examples and to make sure kids don't hang around with the wrong people. Graduates were nodding their heads in agreement and heard saying "that's right" and "amen."
Lt. Gov. Gregory Francis said Parent University is such a good cause they would see to it that the funds would not run out. He suggested getting spirituality back in their lives and conducting family meetings.
"Don't wait until your children are in prison or in the cemetery," Francis said. "Don't say 'I should have.'"
Six of the graduates have completed all five sessions and Rashidi Clenanace, master of ceremonies, jokingly said they were getting their "Ph.D.s in Parents Helping Development."
The graduates received a certificate, tote bag and a day planner. Scholastic books were given out to the children.
Julet Davis, at her fifth graduation, said the classes were enlightening and gave her the chance to interact with others who have the same problems.
"I would like to see more fathers attend, especially Rasta men," Davis said. There were only four men in the graduating class. She said she would also like to see more public school teachers take the classes.
"She has shared with us all she has learned," said Jahamon Bruce, Davis' 10-year-old son. "And she is taking us to church more often."
Myrtle Isaac, mother of two, said she learned how to parent the whole child, spiritually, physically, and mentally.
"You have to keep an eye on children and know what they are doing all the time," Isaac said. "You really have to be on the ball."
The classes were held two days a week for four weeks at St. Croix Educational Complex. The classes are free with childcare, transportation and snacks provided, and are funded by the U.S. Department of Education Title V grant.
Janet Brow, community relations director for the St. Croix school district, was commended for her work with the program. Delegate Donna M. Christensen, Deputy Superintendent of Schools Maria Encarnacion, St. Croix administrator Dodson James and Sandra Phaire of VICARE, also spoke and offered congratulations to the graduates.
Mae Agnes Brewster was given a round trip ticket to Puerto Rico for getting seven people to attend classes with her.
Commissioner of Education LaVerne Terry said she never envisioned how successful Parent University would be.
"It gives me chills to see how committed these parents are," Terry said.