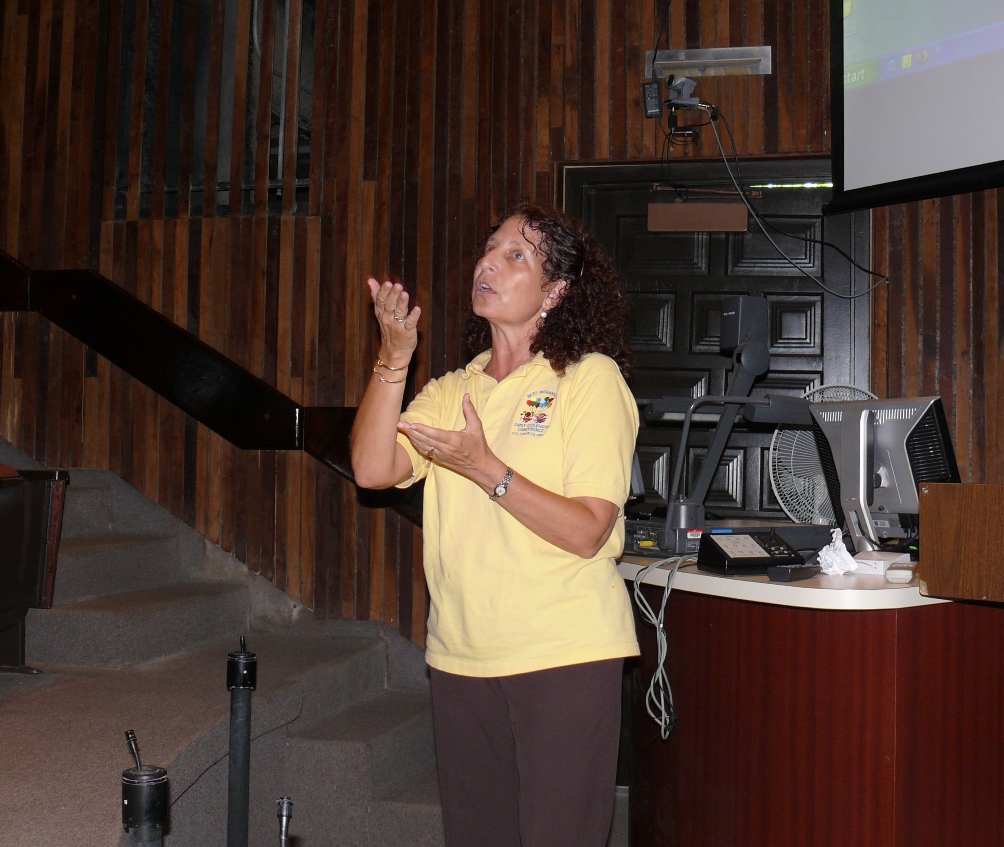 Day care providers, Head Start teachers, other child-care professionals and parents flocked to UVI's St. Croix campus Tuesday to learn the latest expert advice at the first session of the annual Best Beginnings Early Childhood Conference.
In its 12th year now, the conference is geared toward providing top-flight educational opportunities for child-care professionals. Maureen Moorehead, district coordinator for Special Education, has been involved with the annual conference since the beginning.
About 12 years ago, a group of individuals from the major agencies and organizations came together and recommended providing more educational opportunities for providers, Moorehead recalled.
"The idea was to have more professional development, especially for staff who don't have the opportunity to travel off-island for conferences," she said.
The concept has proven popular, and the conference has grown steadily since its inception.
"The first time we had about 100 participants, and the latest one we had nearly 1,300," she said. This year, instead of a keynote speaker, the conference went electronic, projecting a YouTube video of 10-year old Dalton Sherman wowing an audience of 20,000 at the 2008 opening of the Dallas Independent School District with an original speech entitled "Do You Believe in Me." (See related links below)
"It's a remarkable performance by such a young man, and we thought it would be inspirational," Moorehead said.
Next, the Caribbean Dance School of the Virgin Islands performed.
"They showed some of the remarkable talent we have right here locally," she said.
After the video address and dancing, the child-care providers and early education professionals split up into conference "break-out sessions," which are hour-long interactive lectures on all manner of child-care topics. This year, at least one session in each section was presented in Spanish, helping to meet a pressing need in the community for more Spanish language instruction, Moorehead said.
In one room, Education Department literacy coach Sally Camacho and Yvonne Rivera, the Education Department's English Language Acquisition coordinator, talked about strategies to incorporate learning into play activities; reading child's poems and stories with the students.
"OK, they know their letters and their sounds," Camacho said. "How do I get them to make words and next … big words?"
The key is demonstration and pictures and prompting.
"We don't' want it abstract; we want it concrete," she said.
Off in another room Ellie Hirsh, director of Family Connection at Community Foundation of the Virgin Islands, showed recent short documentary videos giving case studies of young children with severe disabilities progressing and doing well when included in regular pre-school. After each video, Hirsh asked the caregivers in the audience about key points.
"The children noticed the teacher including the disabled child with the rest of the class and then the children included her, too," said one.
"That's right. We set the tone and children notice that," Hirsh said.
The conference runs from 8 a.m. to 3:30 p.m. Wednesday on St. Croix, then Thursday and Friday on St. Thomas. Neither campus has a facility big enough to cater to that many participants, so to allow the maximum number of people to participate; all activities from day one will be repeated on day two. The conference is being jointly sponsored by the departments of Human Services, Health, and Education; University of the Virgin Islands; Lutheran Social Services; Community Foundation of the Virgin Islands; and the Children and Families Council.