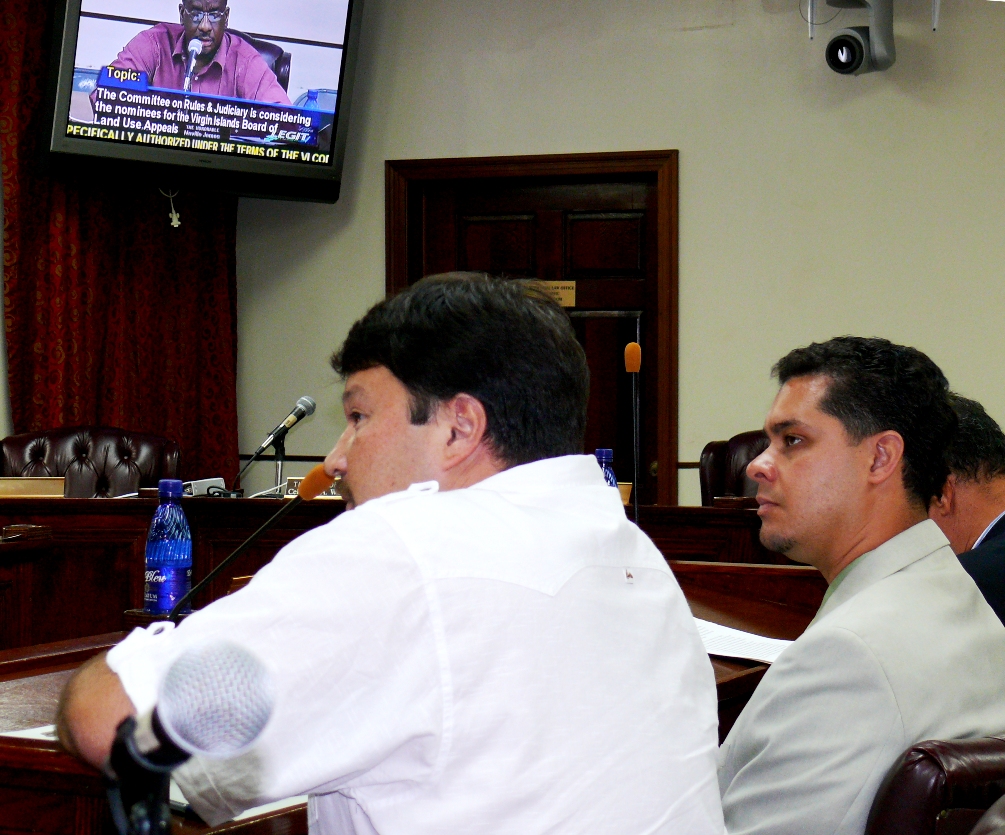 The V.I. Board of Land Use Appeals stepped closer to having a full complement of members Thursday when a Senate panel gave favorable recommendations to a private contractor, an assistant commissioner of Public Works and a long-time veteran of the board.
The board hears appeals of zoning and Coastal Zone Management decisions. Gov. John deJongh Jr. nominated general contractor James Benton and Assistant Public Works Commissioner Roberto Cintron to fill empty slots and renominated architect John Woods for another term. The three nominees appeared before the Rules and Judiciary Committee for their "job interview," as Sen. Usie Richards characterized the confirmation hearing.
Woods, who is in his 12th year on the board, told the senate panel the board does not meet frequently, because it only convenes when an appeal of a lower decision is filed. Nonetheless, like many part-time volunteer boards in the territory, it has struggled with long-expired terms and finding a quorum, he said.
"I have been a member for the past 12 years, although my term has been expired for almost nine years," he said. "This is true of almost everyone else on the board."
If the full Senate approves all three, the board will have seven members and will still need one more member from both St. Thomas and St. Croix, he said.
"The board was not fully complemented in any of the past 12 years," he said.
Senators asked numerous questions about potential conflicts of interest between the nominees' roles as contractors and public work officials and their decision-making roles on the board. All three said they would recuse themselves from cases where they or their companies or agencies had an interest. Because the board only hears appeals, the odds of any particular case presenting a conflict were small, Woods said.
"I would think there is more potential for conflict to exist at the initial level of decision making, at CZM or Historic Preservation, rather than at the appellate level," Woods said.
Woods is a principal in the V.I.-based architectural engineering firm: Jaredian Design Group. He has been an architect in the U.S. Virgin Islands since 1982. His firm designed the new St. Croix offices of the Government Employee Retirement System. A graduate of Charlotte Amalie High School, Woods obtained his bachelor's in architecture from the Cooper Union for the Advancement of Science and Art.
Cintron was born and raised on St. Croix until he went to high school in Ft. Lauderdale, Fla. He has a bachelor's in civil engineering from the University of Florida. After graduating, he worked in Orlando as an engineer, then returned to St. Croix and worked for the Public Works Department, first as district engineer, and since 2007 as assistant commissioner.
Benton is president of J. Benton Construction, a large local general contracting company that is currently doing much of the work at the Diageo distillery under construction on St. Croix. He has lived in St. Croix since 1987 when his family moved from Florida. He went to St. Croix Country Day School through 10th grade and then finished high school and college in Massachusetts, receiving a bachelor's in construction management from Wentworth Institute of Technology in Boston in 1999. He worked for his father's construction company until forming his own company in 2006 after the senior Benton was seriously hurt in an auto accident.
The family business worked on Divi Carina Bay Casino, the Global Crossing Fiber Optic Terminal Building and the air traffic control tower at the Henry E. Rohlsen Airport, among other projects.
No one offered testimony in opposition to any of the candidates. In written testimony, St. Croix Environmental Association Executive Director Paul Chakroff bemoaned a general lack of board members with backgrounds in marine biology, environmental and ecological sciences.
Cintron was approved unanimously. Voting to send Woods' nomination to the full Senate were Sens. Carlton "Ital" Dowe, Neville James, Sammuel Sanes, Patrick Sprauve, Celestino White and Michael Thurland. Richards voted nay. Voting yea on Benton were Dowe, Richards, Sprauve and White. James, Sanes and Thurland voted nay.
In other business, a bill from Sen. Usie Richards to clarify the process of appeals of decisions from the newly created magistrate division of V.I. Superior Court was held in committee to allow V.I. Superior Court and V.I. Supreme Court to work together on a path forward. Richards moved to table and all senators present voted yea.