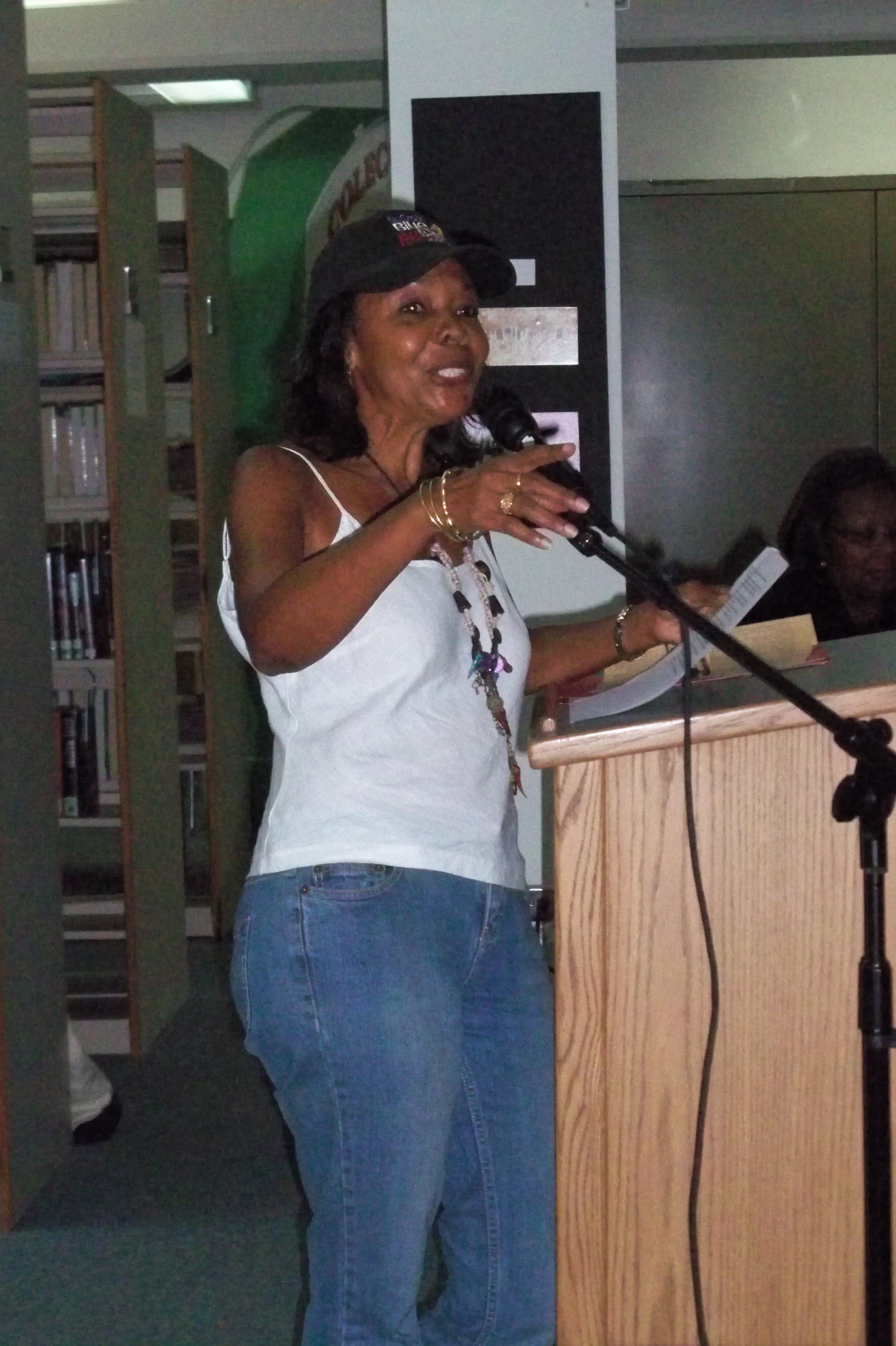 The poetry reading at Florence Williams Public Library sprang from different sources: young, old, white, black, transplants and natives. Although the mood ranged from joyous to heartbreakingly nostalgic, the subject remained the same—Christiansted.
The Friends of St. Croix Libraries staged "Poetry at Your Library" Thursday evening marking the 275th birthday of what some call the prettiest town in the Caribbean. Even though it was a rainy night, the first floor reading room, set with extra chairs and tables with cloths and flowers, was packed with 75 listeners and readers.
"Our Lady Christiansted" was read by Laura Ballard, reading publicly the first time. She said she was a bit nervous, but St. Croix is dear to her heart and she was giving her best effort. In a shaky voice. she said, "She is the perfect combination of history, beauty and play. A little Crucian lady sitting in the sun."
Little seven-year-old Jahnaya Christopher bounded up to the microphone with a poem written during the event on a beverage napkin and read in the open mic session entitled "I Know Christiansted."
Published local poet Palmira Rijos Thurland reminisced about growing up in an idyllic Christiansted and what it is like currently in her reading "The Town of Christiansted 1945 – 2010."
"No homeless, criminals, trash and dirty Pampers. It was not a part of my town. We were respectful friendly people. Now it is so sad with drug addicts and prostitutes. Losing our town day by day. Now only hold on to sweet memories."
Colette Woodson Burgess read the reminiscent "You Should Be So Lucky"; for emphasis she pointed to someone in the audience every time she said, "You should be so lucky" to play games like, tap the can, jacks and marbles. You should be so lucky to shop for new school clothes at Sun Dial. You should be so lucky to return an empty case of Brow Soda bottles. You should be so lucky to be born and raised on St. Croix."
"Take a Walk," written and read by Tori Smith, a junior at St. Croix Central High School, was about the past and current fears of people.
"Take a walk with the protesters for freedom, D. Hamilton Jackson and others on the cobblestones crafted from blood, sweat and tears of men and women who worked hard throughout the years. Today the loss of young lives is taken by senseless acts of violence too often displayed. We are now living in fear like our ancestors once did. I hope once again we can all be light-hearted and free."
Others reading their poems were Opal Palmer Adisa, Earthla Augustin, Anna Marie Gordon , Edgar Lake, De'Shante Perinon, and Jonathon Christopher read for his mother, Winnifred Oyoko Loving.
Ingrid A. Bough, director of Libraries, Archives, and Museums under the Department of Natural Resources, said in her experience, she had never witnessed an event like this: reading with a community coming together to share their rich, diverse culture and celebrating their heritage. "It was a fabulous community effort that made the event successful," Bough said.
Before the reading, a lecture on "Planning Christiansted" was given by William Taylor, local historical preservation architect. Photos of Christiansted from the 1800s to 1970 from the Robert Johnson and Landmarks Society collections were on display.
Zoraida Jacobs, of the Friends of the Library and organizer of the reading, said people may still submit poems on Christiansted to be compiled in a book by calling her at 773-1095, ext. 7045.