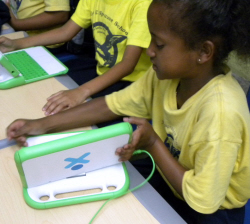 Sixty St. John elementary students have joined the worldwide One Laptop Per Child program and are getting free programming instruction from some very young educators.
Twelve high school students from the Columbus School for Girls are conducting a 10-day seminar for the St. John fourth, fifth and sixth graders as the culmination of a year-long project where they researched, developed and tested teaching methods.
The high school students launched the program Monday, and this weekend has an impressive audience. Their observers are none other than attendees of the first global conference for One Laptop Per Child's far-flung practitioners, representing Afghanistan, Austria, Uruguay, Paraguay, Madagascar, Peru, Sao Tome and Haiti.
One Laptop Per Child provides $200 wireless, child-scaled, ruggedized XO computers to students in developing nations and rural areas. The software, eToys, allows users to create pictures, stories and books, using sound and animation, and teaches the children programming skills, while they learn geometry, math, sequencing, storytelling and problem solving.
The St. John program and the first OPLC "Realness Summit" are the brainchildren of Tim Falconer, who with his foundation, Waveplace, helped to get the program on-island and off the ground on St. John as well as other Caribbean destinations.
Waveplace raises money to purchase laptops for Caribbean children and creates training materials to teach digital media skills.
A frequent visitor to St. John for many years, Falconer vacationed on the island three years ago when he met members of the Guy Benjamin Elementary School family at a Skinny Legs fundraiser. Another conversation that same trip with a local woman about hurricane devastation sparked Falconer's idea to bring the OPLC program to St. John.
The thought that the Caribbean cannot compete with many continentally based industries, due to size of the islands and the sometimes harsh and hurricane prone environment, was countered by what Falconer sees here in abundance – creativity. Falconer and his family would often marvel at the high level of artistic and cultural creativity they found in the Caribbean.
"I come from graphic design background," Falconer said during an interview Friday. "I was always blown away by what I saw down here. It puts to shame anything coming out of Bel Air or New York. "If we can teach people to put their creativity into computers, then they don't have to leave the island, their families and their community [to earn a living]," Falconer said. "My goal is to make the Caribbean the Hollywood of digital media."
At 3 p.m. Friday, just after classes let out at Julius E. Sprauve, when children saw the Columbus students get off the bus, an excited and joyous shout rang out, announcing "They're comin' they're comin!"
Eleventh grader Mary Lutter and her companions were greeted by the classroom of children, eager to show their young teachers what they had made or discovered on their XO computers since the previous day.
The high school students prepared all year long for this trip, restoring broken laptops, creating lesson plans and honing their teaching skills as well as programming on the scaled-down computers.
Forty-seven of the 60 laptops come to the program through the efforts of Christine Murakami, who located older computers and brought them to her students to teach them how to make hardware repair and software updates.
The students from Columbus have been surprised by how quickly their pupils catch on to concepts as well as discovering some things that the high schoolers had not known about the computers.
Some of the students showed off what they had created on their XOs.
"I made a fish and I made a boat," Sprauve fourth grader Daniela Joseph said. "And I made them move."
Recording sounds and taking pictures also allows students to incorporate their surrounding into stories and books that they can circulate with children across the world. The St. John students are picking up a lot on their own.
"We expected to have to explain things more," Lutter said. "They just explore at home on their own."
Lutter conceded that teaching younger children is a challenge, but classmate Megan Murray recognized the value in the enthusiasm.
"The biggest distraction is them teaching each other about what they learn and find," Murray said. "It's what we wanted. We think kids learn better when they teach each other."
The
continues through Monday.