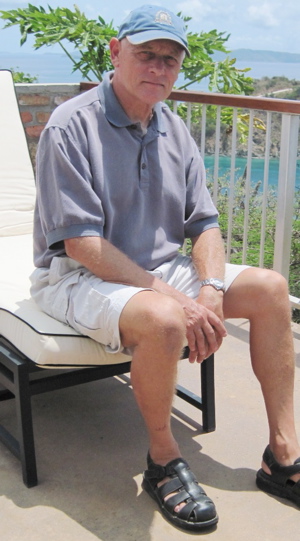 Innovative Concrete Polishing Inc. on St. John offers an alternative to the usual tile floors found in many island homes.
"It's almost the same look as terrazzo," owner Bob Melnik said, showing off the polished concrete floors at his St. John home.
Using polished concrete reduces the material and labor cost of terrazzo flooring, Melnik said.
"It's cheaper than medium grade tile," he said.
Polished concrete gives floors the high-end look popular in tony Manhattan shops and used in the Miami airport.
And you're not stuck with gray concrete either. The concrete can be colored to suit your décor and gussied up by embedding metal such as bronze figures in the concrete.
"People can use various materials – like cut glass. There are all types of innovative possibilities with concrete," Melnik said.
The company also offers help for homes with deteriorating tile. Its machinery can remove the old tile and polish the concrete underneath, Melnik said.
The process started in Europe, and Melnik said it's just now catching on across the United States.
Innovative uses diamond bits and impregnating hardener and sealers to polish the concrete, a seven-step process that results in a shiny floor that's easy to clean and easy to maintain. The company uses the Superfloor process developed by HTC Technology.
It only takes sweeping and mopping to keep it looking good. It also has a long life.
Melnik did the floors at the newly built Humane Society building on St. Thomas, he said.
He and his sons Evan, 25, and Nathan, 28, started the company back in their home state of Michigan. When Melnik and his wife of 37 years, Betsy, were ready to build their house on St. John, he put his skills to good use.
This is a second career for Melnik, now 63. He founded Dealers Financial Services, a company that dealt with the insurance side of the banking and car dealer businesses as well as offshore reinsurance.
He and his family fell in love with St. John decades ago on a trip to St. Thomas. They soon started visiting St. John, bought property, and when he decided to retire they decided to call St. John home. He and his wife moved permanently to the island three years ago.
Innovative can be reached at 779-4089 or 248-866-4681.