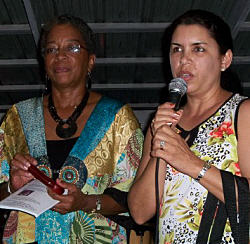 Delegate Donna M. Christensen would have been hard pressed to find a better place to host a heritage reception Thursday for local and visiting historians than Hotel on the Cay. To catch the ferry to the hotel, participants had to pass through the park surrounding Fort Christianvaern and see the fort's recent landscaping and fresh yellow paint.
The visitors were from the International Council on Monuments and Sites (ICOMOS) International Scientific Committee on Fortifications and Military Heritage (ICOFORT). They were only on St. Croix for a day. They came from Puerto Rico and were on their way to St. Thomas on Friday and St. John Saturday.
Delegate Christensen gave a speech welcoming the historians, who are visiting the territory to assess the Danish forts. She said the groups' comments will help on future new proposals or additions to existing World Heritage Designation. The seven-member group will be printing a report on what it learns from these visits.
The group toured Fort Frederik, Salt River Columbus Landing, and Fort Christianvaern to gain a better sense of the nature and breadth of the island's fortifications, particularly coastal defensive works.
"I am very impressed with what we have seen," said John Schofield, of ICOFORT and head of military programs for English Heritage, a historic building and monument commission. "This gives a wider view of the importance of the Virgin Islands' forts and sets it in a wider international context," he said.
Schofield said the group will be able to assist and advise the Virgin Islands on conservation since they have seen the forts.
"This visit was particularly special since St. Croix is being considered as a World Heritage Site," said Edgar Lake, president of Society of V.I. Historians. "These islands are being recognized for cultural production being demonstrated."
Milagros Flores, historian at the St. John National Park Service in St. John and president of ICOFORT, said the studies and opinions will help in the pursuit of a nomination of the islands as United Nations Educational Scientific and Cultural Organization (UNESCO) World Heritage Sites.
Among Caribbean islands' cultural resources are colonial defensive structures such as Danish forts, Dutch forts, Napoleonic era forts, Spanish colonial forts, batteries, slave revolt battlefields, barracks, cemeteries, wharves, dockyards, guardhouses, and 20th century U.S. Army and Navy complexes.
The ICOMOS International Scientific Committee on Fortifications and Military Heritage (ICOFORT) was established by ICOMOS in 2005. It carries out specialized studies and addresses preservation problems of historic fortifications and military heritage, and actively pursues international cooperation for the identification, protection and preservation of historic fortifications, military structures, military landscapes and sites.