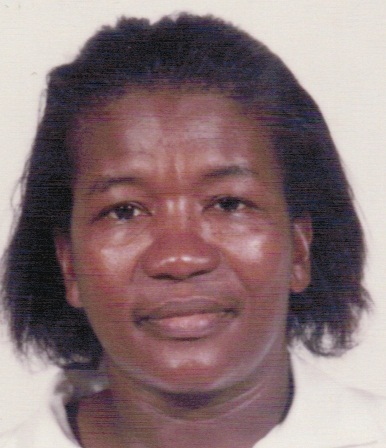 Patricia J. Carbon of Estate La Reine died on May 25, at Gov. Juan F. Luis Hospital. She was 60 years old.
She is survived by her husband, Raymond A. Burton; children: Aileen M. Beverly and Gifford G. Daniel George, Amanda K. and Richard A. Burton; grandchildren: Akeen Gordon, Jahzel D. Matthew, Jahleesha J. Matthew, Dannysha George, Dannytra George, Dajah H. George, Destiny S. George, Gifford George, Deandre George, Deonte George, and Lionice and Vivia Webster; and brothers and sisters: Myrtle Jacobs, Mascoal Andrew, Patrick Carbon, Maureen Magloire, Theresa Irish, Jeanne Lestrade, Jane Bazil, Felix Carbon, Emmanuel Carbon and Justin Carbon. She is also survived by nieces and nephews: Keether, Verna, Vernon Jr. and John Jacobs, Cheryl and Dave Andrew, Patricia, Jackie and Brittany Carbon, McArthur Bryan, Anthony John, Robert Brown, Liane, Leon, Lamon and Lemar Irish, Minchinton, Diane, Caren, Randy and Richard Lestrade, Malcom, Oyane and Starnipha Bazil, Arminex, Kurt, Dwight, Dwayne, Catherina, Gammiel, Trevor, Lorrina, Gary and Jackie Carbon; and cousins: Richardson and family, Ervin Royer, Russell Carbon, Theophile Alize, Patricia Waldron, Mrs. Vignett Masbee Joseph and family, Irma Carbon, Joffre Magloire, Maria, Merrill and Murphy Wallace, Yoland Waldron, Honica Bernette, Alister Telemaque, Jacobs and Branch Burnette, Fredrick Royer, Connie Colier and Norman Mills.
Other survivors include: godchildren: Ann Austrie, Karen and Francess Thomas, and Victor; close friends: Cynthia Letang and family, Rosaline Gasette and family, Zelita Richardson and family, Patricial Delsol and family, Ma Lucy, Merle Lawrence, Andrew Francios and family, Regina Boyea and family, Flora Royer and family, Sandra Walcott and family, Carima Sealy and family, Jennifer Laurence and family, Judith Richardson and family, Corona and family, Laurel Royer and family, Adelia Lawrence and family, Lewis Edward and family, Eva and family, Rosemary and family, Geraldine Azile Luke and family, Steve Fontaine and family, Avril, Rapheal, Eursula, Rupert Bannis and family, Evon Andrew, Daniel George Sr., Jennifer Lewis and family, Todman and family, Doubling and family, Franklyn and family, Steve Jack, Tobias, Gloria and Sean Coursey and family, the Galibier family, Dr. and Mrs. Ricketts and family, Manuel Gutierrez and family, Sherly Barneby and family, the staff of the Clinical Laboratory, the staff of the Imaging Center, the Dominica United Cultural Group, Rounders Team, Advance Radiology staff, Rush-It-Inc., the staff at the Henry Rolsen Airport, Quest Diagnostic Inc.; and other relatives and friends too numerous to mention.
There will be a viewing held at 9:30 a.m. and a funeral service at 10:30 a.m. on Friday, June 11, at St. Ann's Catholic Church. Interment will follow at Kingshill Cemetery. Celebration of her life will be held at The New Drive Inn at 5 p.m.
All arrangements are entrusted to James Memorial Funeral Home Inc.