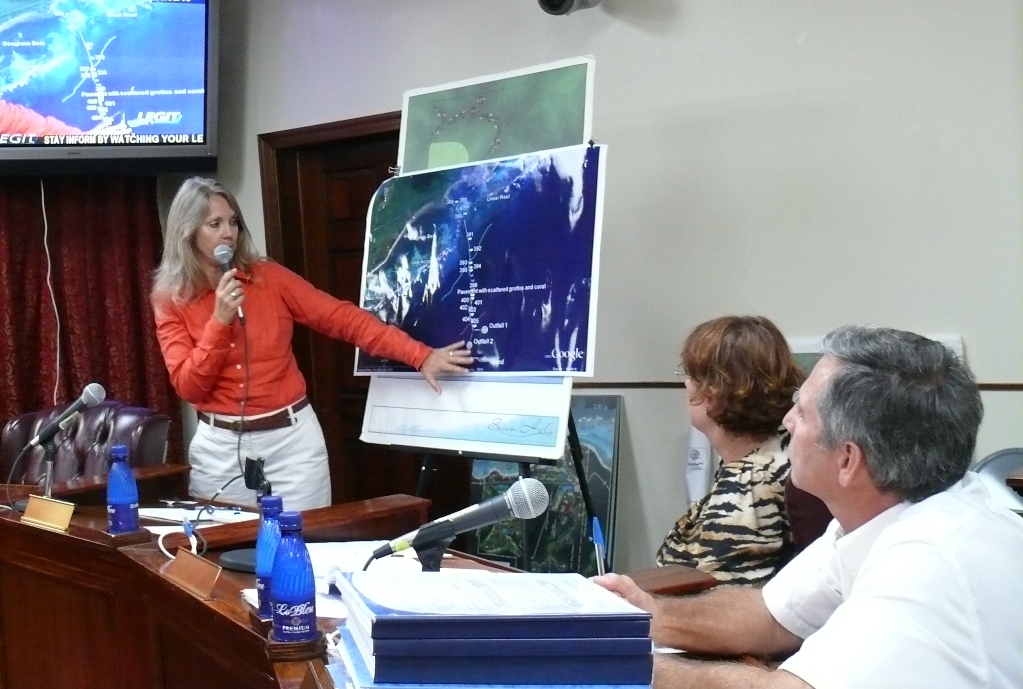 A long-planned hotel, condo and casino at St. Croix's Robin Bay perhaps inched closer to reality Tuesday when the Senate Planning and Environmental Committee considered the developers' major Coastal Zone Management permit. However, with no quorum, a vote was put off until later this month.
Developing company Robin Bay Realty is calling the project Seven Hills Beach Resort and Casino Development at Robin Bay. It is one of several long-delayed resort projects on St. Croix, along with the Amalago Bay development planned for Estates William and Punch on the island's west end and Golden Gaming's casino and resort project planned for 618 acres on St. Croix's south shore near Great Pond. As with other proposed projects, plans at Robin Bay call for a mixed resort development with golfing, casino gambling and condominiums along with hotels.
Plans call for four phases of development on the property on St. Croix's southeast shore over a 10- to 12-year span, depending on market conditions and demand. South Phase one includes two hotels (with 422 rooms), a 30,000-square-foot casino, meeting and banquet rooms, retail shops, an 18-hole golf course and 56 timeshare condos. Later, if all goes well, more hotel rooms, condos and cottages along the golf course will be built, for up to 870 rooms and 740 condos, according to testimony from the developers.
According to figures the developers provided to CZM, the entire project has an estimated construction budget of about one billion dollars, with around $290 million for the first phase. Robin Bay Realty told CZM over a 10-year period the entire development would contribute $2 billion to the territory from income, expenditures and tax revenue, if it comes to pass.
Sen. Usie Richards asked Robin Bay Realty Managing Director David Kagen whether the financing was in place. Kagen said the land had been purchased, but "as of now, no funding is committed" for the actual development. Lenders are awaiting permits before they will commit themselves to the process, he said.
"It is a matter of first getting all your permits in place and then coming back and finding out what financing is available," said Kagen.
Sen. Nereida Rivera-O'Reilly asked who Robin Bay Realty's investing partners were. They are: Kagen and Curtis Robinson in Connecticut; Robert Mitchell and John Pittman in Florida, and Maryland physician Charles Edwards.
Robinson, Mitchell and Edwards hold 30 percent stakes, while Kagen and Pittman each have around five percent equity, Kagen said.
Amy Dempsey with BioImpact environmental consultants detailed the property's environmentally sensitive areas and the developers' plans to control erosion, mitigate and reduce the resort's potential environmental impact. Some non-native species will be removed and as land is cleared, two native Lignum Vitae plants will be planted for every one cut down. Wherever possible, young native plants, like Lignum Vitae, will be transplanted elsewhere on the property rather than removed, she said.
Along with delicate flora and fauna, from mangroves to sea turtles, the site has a number of historic and pre-Columbian archeological sites, which the developers mostly plan to preserve and open up for historical interpretation.
With no water lines coming in from the V.I. Water and Power Authority and no sewer lines, designs call for rain-catching cisterns and a reverse-osmosis plant to draw water from the sea. With maps, drawings and aerial photos, Dempsey described how the plant would have one pipe pulling in sea water and two discharging the extra-salty water left from purification nearly a mile out at sea. There are elaborate plans to avoid damaging beds of sea grass, coral reef and coral outcroppings during construction and under operation.
Acting Director of the CZM division of Planning and Natural Resources Norman Williams said CZM approved the permit, with a list of conditions, in May 2009 and recommended the Senate approve the permit with its conditions.
Speaking for the St. Croix Environmental Association, the group's executive director, Paul Chakroff, said the intentions and words of the project's developers seemed good, but he urged the Legislature to ensure that all the plans and proposals for environmental mitigation are spelled out and made requirements in the permit.
He also asked for 300-foot setbacks from bird-nesting areas around a salt pond on the property and recommended several other changes to the plans.
Richards asked if SEA or any of its members or affiliates were likely to sue to slow or prevent the development. While SEA would like to see changes to the permit, it does not object to the project overall and does not anticipate any problem rising to the level of filing suit, Chakroff said.
No quorum was present and no vote was taken. Present were Sens. Shawn-Michael Malone and Michael Thurland. Richards and O'Reilly were present but are not members of the committee. Absent were: Sens. Sammuel Sanes, Patrick Sprauve, Carlton "Ital" Dowe, Adlah "Foncie" Donastorg and Alvin Williams.
Malone, the committee chairman, said he would like to avoid further delay and would put the permit on the agenda for either a June 18 hearing on St. John or a June 23 hearing on St. Thomas.