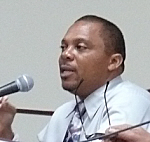 A bill to create a semi-autonomous drug enforcement agency separate from the V.I. Police Department, with its own governing board, made it through the V.I. Legislature's Public Safety, Homeland Security and Justice Committee Friday.
The bill, sponsored by Sen. Terrence "Positive" Nelson, would take the the defunct V.I. Drug Enforcement Bureau, give it a new name, and put it under the exclusive jurisdiction, control and direction of the a seven-member V.I. Bureau of Narcotics and Dangerous Drugs Control Board. The board would be composed of four volunteer citizens and top Police and Justice Department brass.
The name of the new agency would be the V.I. Bureau of Narcotics and Dangerous Drugs Control.
Attorney General Vincent Frazer and Police Commissioner Novelle Francis opposed the notion, preferring instead a dedicated division within the VIPD.
"Whatever limited resources we have, we are hoping that funding will be given to the Police Department to establish a drug interdiction office within the department," Francis said.
Creating a new department would confuse the lines of command and responsibility, create redundant bureaucracies and leave both police and the new drug bureau short of resources, he said. Creating yet another volunteer governing board may not be a very effective way of managing the agency too, Francis said.
"We see time and time again boards having trouble making quorums," he said.
In a previous hearing on the same bill, Sen. Shawn-Michael Malone said a review by the Legislature during the administration of Gov. Charles Turnbull found 110 separate boards and commissions, many of them defunct and many more ineffective and unable to make quorums.
According to Frazer, the U.S. Department of Justice had threatened to file a consent decree over corruption problems at the old drug bureau, and if it were reactivated and kept the same personnel as the old agency, federal funding for territorial police efforts would stop.
Jay Watson, an agent with the DEB, and Luis "Tito" Morales, president of the local chapter of the United Steelworkers, argued for a separate, autonomous agency. Watson argued an autonomous agency would be more focused, less prone to corruption and political influence and ultimately more effective.
For many years, the bureau was semi-independent, operating out of the Office of the Governor. But the small agency had continually been plagued by corruption and ineffectiveness. In 1999, then Gov. Charles Turnbull submitted legislation to disband it, but the Legislature took no action. Three years later, in 2002, three of its agents—more than a quarter of its staff—were indicted, along with a police officer and a corrections officer, for racketeering, extortion, and possession of drugs with intent to distribute.
In 2007, Gov. John deJongh Jr. submitted legislation to disband it as well. With no action taken, deJongh decided to effectively disband it unilaterally, by reassigning 10 of its 11 personnel to other, better-paying posts and not submitting a budget for the bureau. Watson is its sole remaining employee.
The move prompted complaints from Watson and Morales, and questions from senators, and ultimately Nelson's bill to re-establish the unit and place it under a governing board.
Voting to send the bill on to the Rules and Judiciary Committee with a favorable recommendation were: Nelson, Malone, Sens. Wayne James and Sammuel Sanes.