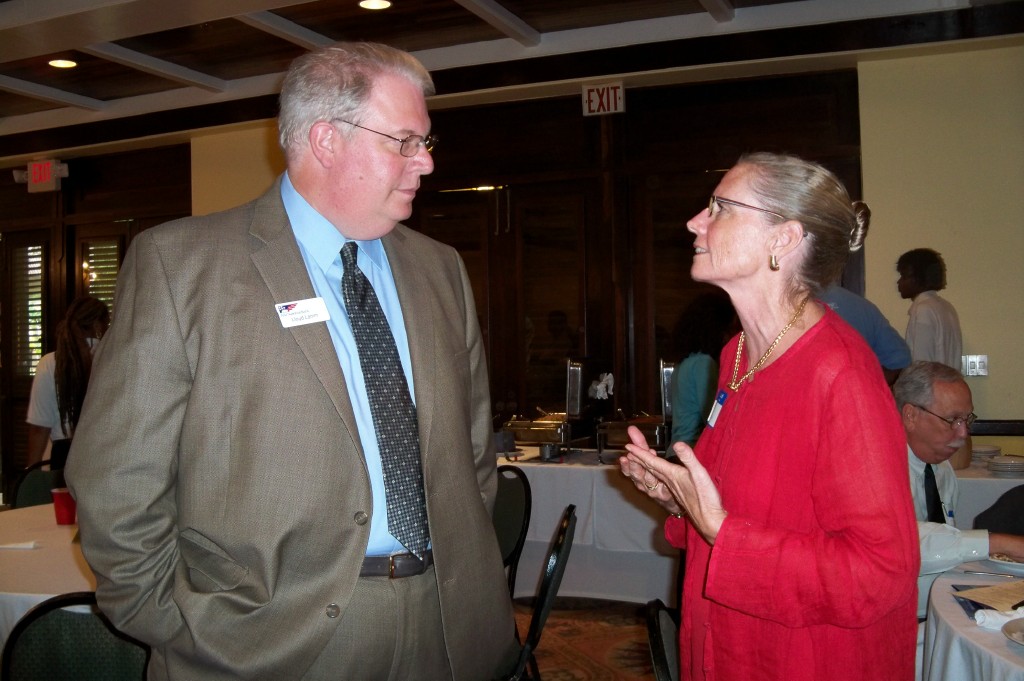 A call for local business leaders to commit to and invest in early childhood initiatives was sounded Monday at the V.I. Business Summit on Early Childhood Investment at Carambola Beach Resort.
Around 40 leaders of all sorts of businesses, agencies and service groups attended the summit to learn how to invest in educating children from birth. During the summit, experts provided information and tools for businesses to invest in early childhood education for good returns 15 to 20 years from now.
In her opening remarks, First Lady Cecile deJongh, the first chair of the Children and Families Council and founder of initiatives herself, stressed that early childhood education is important to develop a good base. "We can't start at 10 or 11, we need to start at birth. This is your workforce, we want to take your ideas – tell us what you need," deJongh said.
Long-term benefits of early childhood investment include reduced crime rates, lower teen pregnancy, reduced grade retention and increased high school graduation rates.
Labor Commissioner Albert Bryan told the group they are the ones who pay the bills and drive public policy. "We need to be sure kids are prepared to succeed and look at the best way to equip them to succeed," Bryan said.
Ellie Hirsh, director of the Family Connection under the Community Foundation of the Virgin Islands, armed the leaders with statistics from the USVI Kids Count Data Book 2009 on how the children of the territory are faring. She pointed out where Virgin Islanders are succeeding and where they are failing their children. She mentioned that less education means less employment prospects and that poverty puts kids at extreme risk.
Dr. Ross Thompson, from the department of Psychology at the University of California, spoke about child development and growth. He said if children aren't reading and comprehending by third grade they will probably be left behind.
Rob Grunewald, associate economist at Federal Reserve Bank of Minneapolis, said what happens early impacts health, achievement and well-being. He added that long-term studies show a well-educated workforce means strong growth and higher wages. He gave the economic case for moving forward by providing prenatal and early infant home visits, providing quality child care and parent education. He said economists think it is important to invest in education.
Lloyd Lamm, a member of the Pennsylvania Early Learning Investment Commission, stressed the important role of the business community. "Business leaders can be disciples, getting more business leaders excited and talking to legislators. Because you are business leaders, legislators will listen."
He said businesses need to spend money early in the process. The returns can be up to $16 for every $1 spent. Lamm spoke about how the business leaders can get involved and stay engaged. He said the first step for them is self-education and visiting early education centers.
Sara Watson, director of Partnership for America's Economic Success, spoke about ways to appeal to businesses to invest, such as securing a well-prepared workforce and showing a company's interest in improving the community.
Round table discussions, entitled "Where do we go from here?" took place during lunch.
Lorine Williams, a local realtor and chamber member, said she was taking the information back to chamber members because they have been discussing how business can help with early childhood initiatives. She thinks CEOs could start to set up some sort of scholarships for early childhood education.
Choice Communications' Larry Searles said he was taking action by talking to the boss first —and then to the 50 employees at Choice, and possibly even starting to help the lower wage earners there somehow.
"If we invest in early childhood education the future will be better for everybody," said Kimberly Causey Gomez, assistant commissioner for Human Services.
The summit was sponsored by Office of the Governor Children and Families Council, Community Foundation of the Virgin Islands, St. Croix Chamber of Commerce, Lutheran Social Services, USVI Economic Development Authority and Partnership for Americas Economic Success.