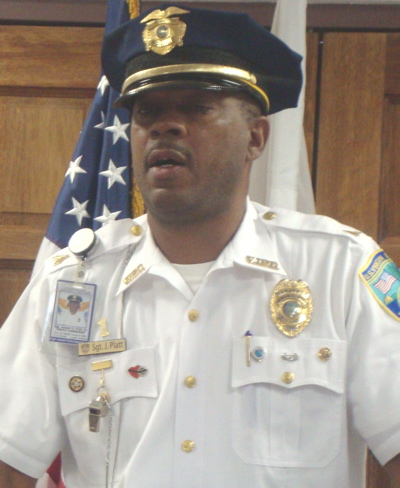 Summertime, and the V.I. livin' is easy … unless you're out celebrating a little too much and get behind the wheel. Then the livin' could be downright inconvenient as the V.I. Police Department ramps up intensive patrols to curb drunken driving. If you're out driving under the influence, VIPD authorities say they'll be out in force to get you off the road and into a cell.
The beginning of this year's annual program, entitled "Over the Limit, Under Arrest," was announced at a press conference Wednesday at the police station in Hanna's Rest. Sgt. Joseph Platt, the St. Croix district traffic commander, said the message is the same each year; but some people just don't get it, and end up paying a price.
"Driving while drunk is not going to be tolerated," he said. "If you're going to be taking part in the festivities, do so responsibly."
That means making plans for the celebration before you go out. Arrange for a designated driver or make plans for how you're going to get home if you drink, he said. If you do end up drinking without having made plans, leave your car and call a friend, call family, call a taxi. Call someone, Platt said, even the police, who will do what they can to get you home safely.
And if you observe a driver who appears to be intoxicated, don't hesitate to call the police and report it, he added.
This year's campaign will run from June 20 through July 5. During that time the police will set up impaired driving checkpoints and saturation patrols to get drunken drivers off the road, Platt said.
And the department has more tools at its disposal for hunting down drunken drivers, he said. On St. Croix, police recently took possession of a van that carries the tools needed to perform toxicity tests, and serves as a holding cell for as many as four suspects, Platt said. Using the van, a high-tech version of the old paddy wagon, police won't have to constantly ferry suspects from the traffic stops to the station.
A similar van is planned for St. Thomas, he added.
The police want residents to have a fun summer, he said, but it won't be fun for a driver who has too much to drink and ends up in a jail cell or, worse, a hospital bed or a fatal accident.
Platt reminded drivers that the legal blood alcohol limit is .08 percent, but that drivers can be arrested and charged with driving under the influence with a level as low as .05 percent if they fail a field sobriety test.