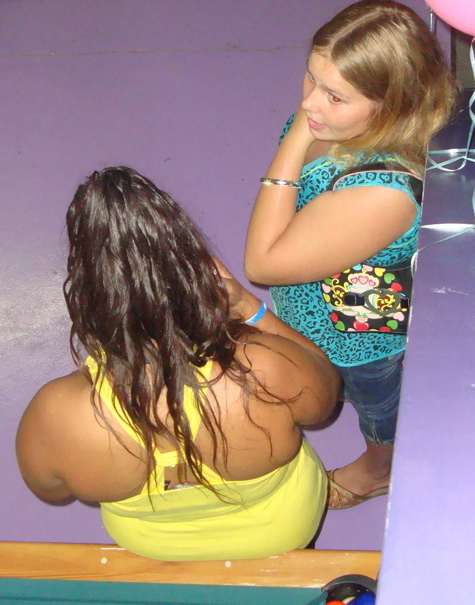 A gentle breeze kept the temperature cool, but the sound of the Stylee band pouring out the door kept things hot at Wednesday's opening of the Boys & Girls Teen Center in Frederiksted.
The band will blow the roof off the center in Christiansted, which is scheduled to open Thursday night.
As the band's music washed over the Estate Smithfield neighborhood Wednesday, teenagers trickled into the hall at the Frederiksted club. Outside, parents mingled with about 18 volunteers from the V.I. Police Department, Fire Department and social services agencies.
The centers are free to island teens, thanks to a grant from the V.I. Law Enforcement Planning Commission, according to Lesa Edwards, the club's teen center representative. So far, 24 have signed up in Frederiksted and 59 in Christiansted, Edwards said.
Each center will be open twice a week – starting next week the Frederiksted center will be open from 6 to 9 p.m. every Thursday and Saturday, and the Christiansted center every Wednesday and Friday, Edwards said.
A range of activities are planned, all organized by the club's teen council. Upcoming events include: a movie night (Friday in Frederiksted, Saturday in Christiansted) with "Avatar;" a Wii tournament, karaoke night, a pizza night with dancing to DJ Supertrax, and a 3-on-3 basketball tournament.
And that's just for June, Edwards said.
The teen council is open to any interested club member, she added. "We want all kids to have a voice if they want a voice," she said.
The Boys and Girls Club will also offer tutoring, mentoring and a program to help young men find nonviolent ways of acting out their aggression and help them control violent impulses.
The Boys & Girls Club needs volunteers to run the Teen Center and work with the teens, and they always need donations, Edwards said. Anyone who wants to help out can call the Christiansted Center at 778-8990, the Frederiksted Center at 772-3110, or Edwards at 713-0756.