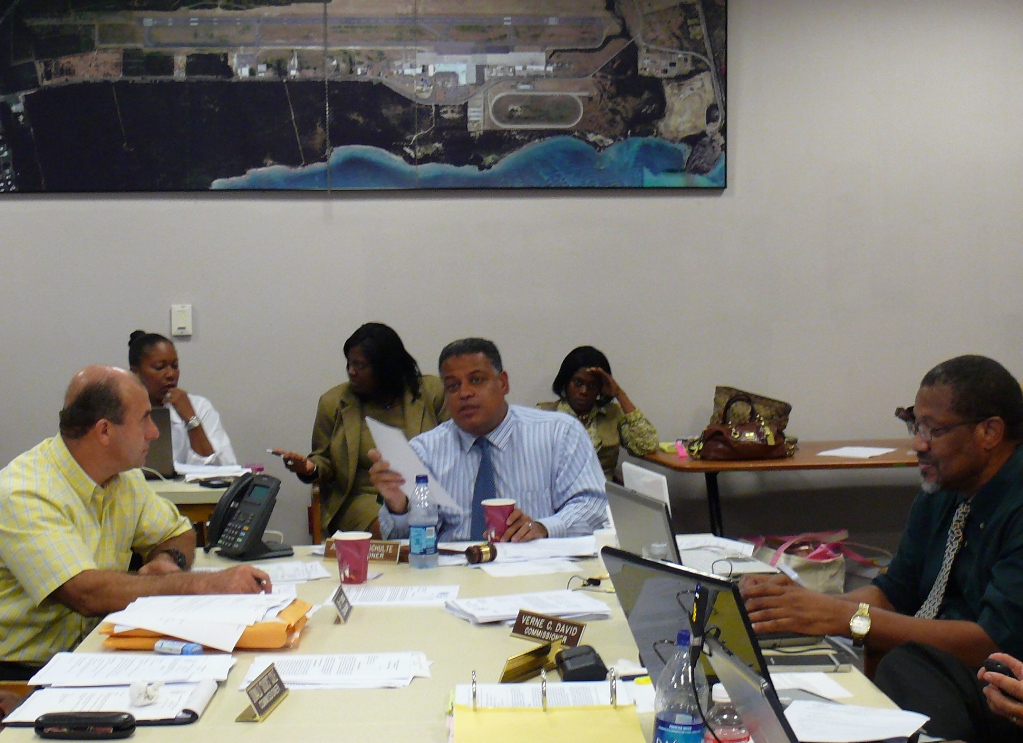 The V.I. Public Services Commission voted Thursday to slightly reduce the hated Levelized Energy Adjustment Clause (LEAC) fuel surcharge on electric bills over the summer and increase the LEAC on water bills.
The V.I. Water and Power Authority had initially requested a 3.8 percent increase in the electric LEAC and a 10.4 percent increase on the water side. But between the request and the meeting, projected fuel prices dropped.
WAPA Executive Director Hugo Hodge Jr. arrived at the hearing with new numbers and requested no change at all on the electric side and an increase on the water side sufficient to allow WAPA to recover its fuel costs within nine months.
The water LEAC is rising "due to the larger portion of the under-recovered fuel costs being recovered over the same nine month period as the electric system," Hodge said.
The PSC decided to calculate the rate based on a longer, one-year, time frame. Based on that different payback window, the PSC voted to decrease the Electric System LEAC Factor 2.7 percent, from $0.269 per kWh to $0.251 per kWh effective July 1 to September 30.
Over the same time span, the Water System LEAC Factor is increased 5.2 percent from $8.61 per thousand gallons to $10.04 per thousand gallons.
Hodge said the longer time window for cost recovery would squeeze the utility for resources to maintain and operate the water system.
"How can any business run when you have payment terms of net 30 days and collection terms of 12 months?" Hodge said afterwards.
Questioned about power outages on St. Thomas, Hodge said three units failed at once several weeks ago, resulting in rolling blackouts for several days. There is no problem now, he said.
"But when we announce rolling blackouts for two days, people then assume any other outage is part of the same thing," he said. Localized outages caused by storms and branches hitting lines have been perceived as blackouts, he said.
Water rationing on St. Thomas is due to a reduction in water production combined with insufficient storage capacity, he said. When power generating units are down for repair, they are also not producing drinking water from steam. Rationing will continue until the cushion of stored water is replenished, he said.
"The goal is to build back storage to the point where the tanks are sound for hurricane season, as well as for backup water resources," he said.
Voting yea on the LEAC changes were: Joseph Boschulte, Verne David, Donald Cole and Sirri Hamad. M. Thomas Jackson and Elsie Thomas-Trotman were absent.