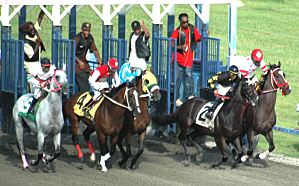 The horses will be off and running on Sunday at the Randall "Doc" James Race track in what is being billed as a pre-Fourth of July warm-up special. TRAXCO, the race track manager, has put together a somewhat short but well matched seven-race card, and Sunday's races should be full of excitement.
The day's feature will be the seventh race, run at a distance of 7-1/2 furlongs for a purse of $4100. In this race, arguably the hottest mare on St. Croix, Cinque Terre (114), will try her luck against the boys. She will have some tough competition in the front-running speedster Puerto Rican Emblem (119), the likely pre-race favorite; a tough veteran campaigner in Charlie Cho (117); and the late running Black Jack Bob (116).
But Cinque Terre's handlers believe the mare is ready to step up to the challenge after three straight victories against her own gender, and they will be very confident of victory on Sunday.
The rest of the day's card:
Race 1 N-6 4 ½ F $3500
1. Midnight Idictment (debut) 116
1A. Midnight Jury Trial 116
2. Small Fortune 116
3. Road AKA Officer 116
4. She Kris (debut)
5. Turnbull Delight 117
6. Teck That 116
Race 2 N-5-6 6 F $3600
1. Dana's Express 118
2. Belzona Red 118
3. War 118
4. From Emeralds To Ruby's 114
5. 07 07 07 Rita (Debut) 114
4. Miss Kosi 116
Race 3; Class I-5&6, M/F 6F $3600
1. Apron's Dance 114
1A. Devil's Revenge 114
2. Grey Forbes 116
3. Sarasota May Bell 114
4. Laura's Fury 114
5. Qualifying Asset 114
6. Elston V 116
Race 4; Class I-3-4 C/G 7 F $4000
1. United Deelites 117
2. Black Machine 114
3. Dixie Find 116
4. Mi Jesuse 114
5. Big thunder Reflec 116
6. Daddy Eddie 119
7. Ala Cat 114
8. Formerly Cat 114
Race 5; Class I-5-6 C/G I-4 M/F 7F $3700
1. Caribbean Slew 114
2. Cherokee Neesh 115
3. Collegeville Kid 119
4. Zirito 117
5. Thunder Duncan 115
6. Wiseman's Choice 117
7. Protype 117
8. Pay Back 115
A/E Get Ready Now 115
Race 4 Classes 1, 2, 3, 4 M/F 1M $4000
1 Leggy Blonde 115
2. WonderIfIamSpecial 119
3. Big Kate 119
2. Destiny Arrival 117
6. YIMC Sword 115
6. Fools Paraise 119