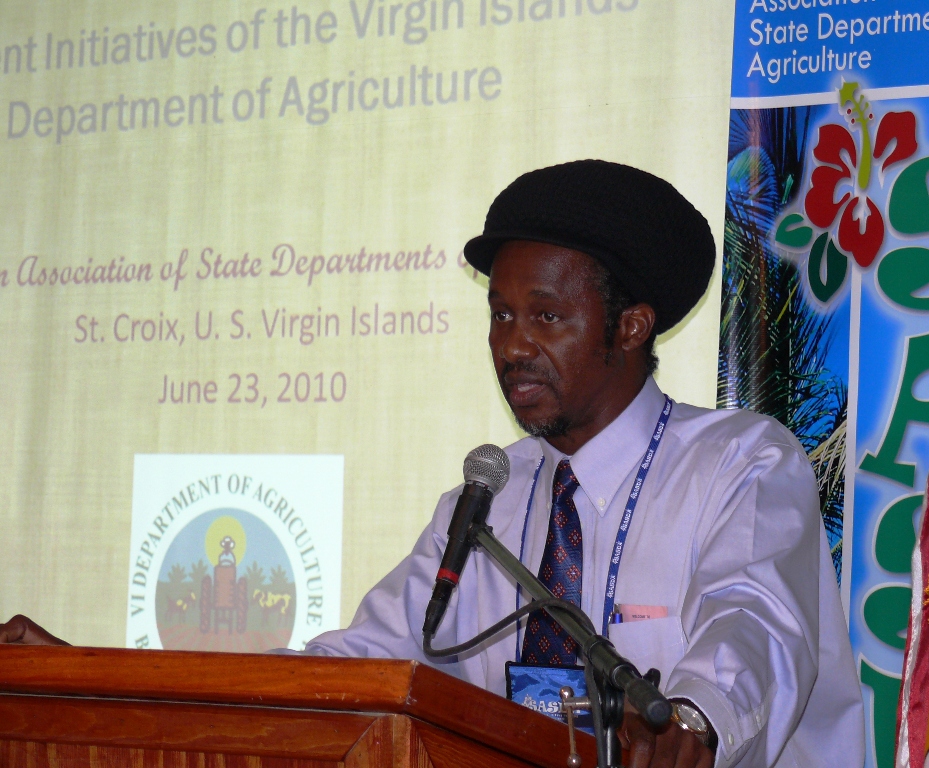 State agriculture commissioners from the southern United States, Puerto Rico and the territory listened and asked questions about salt- and heat-resistant Senepol cattle, the potential of water catchment systems for agriculture and other territorial farming initiatives Wednesday on St. Croix.
They are on St. Croix all this week for the annual business meeting of the Southern Association of State Departments of Agriculture (SASDA), an organization comprised of chief executives of state departments of agriculture throughout the southern United States.
The association's mission is to represent the southern region state departments of agriculture by developing and implementing sound public policies and programs to support and promote the regional agricultural industry.
V.I. Agriculture Commissioner Louis Petersen is currently serving as president of the organization, and this is the first time the annual event has taken place in the territory.
Kofi Boateng, assistant state director of the Cooperative Extension Service, gave a talk Wednesday on the history of farming in the territory, from pre-Columbian Taino practices to the present day. Ears perked up when Boateng spoke about the hardiness and growing popularity of Senepol cattle, a breed first developed on St. Croix over 90 years ago.
Louisiana Commissioner of Agriculture and Forestry Mike Strain asked about the breed's ability to tolerate salt.
Boateng related he used to have a poultry farm on St. Croix and when he dug a well, the salt content was so high, his chicken could not consume it.
"But the neighbor's Senepol kept coming over from next door and happily drinking it," Boateng said. "You will see them grazing right on the beach."
A more salt-resistant breed could be very valuable in Louisiana, Strain said afterwards.
"Salt intrusion is a major problem for us," he said. "The hurricanes of the last five years … have left us with salt-water infiltration up to 20 miles inland."
In some cases, salt reaches concentrations of up to 5.5 parts per million, "right at the boundary for sustaining life," he said. "Cattle will forage and eat the bushes but won't touch the grass, which has a higher salt content."
Others were interested in cisterns and other rain-catching technology common in the territory. Because there are no rivers and limited ground water, cisterns are an everyday part of life here, but many parts of the United States and the world face a tight supply of potable and irrigation water and could at least ease the shortfall with relatively modest investments in tanks, ponds and cisterns for rainwater.
The territory stopped being active in SASDA in the '70s, just recently resumed and has already seen benefits, said Petersen.
"It is a good thing to be part of, for exposure to other perspectives, but also for lobbying," he said.
For instance, when Congress passed the Specialty Crop Competiveness Act in 2004, giving support for growers, the program included all the states and Puerto Rico, he said.
"By simple oversight, we were not included in the act, so for several years we just lost out on that opportunity," he said. Other members of SASDA were on the side of the territory when it came time to lobby to be included, and now, V.I. farmers are getting some of that funding and new orchards are being planted, he said.
"I don't like fighting, but I fight for causes I believe in and Agriculture is one of them," he said.
After more meetings Thursday, the visiting agriculture officials will go to a Government House reception beginning at 6 p.m. Oreo's Steelpan Band and the St. Croix Educational Complex Quelbe Band will play, the St. Croix Heritage Dancers will dance quadrille and new SASDA officers will be installed.
The formal conference ends Friday. Over the weekend, representatives will be visiting the La Reine and Beeston Hill farmer's markets, touring Cruzan Rum and possibly judging at the annual Mango Melee and Tropical Fruits Festival at the St. George Botanical Garden on Sunday.