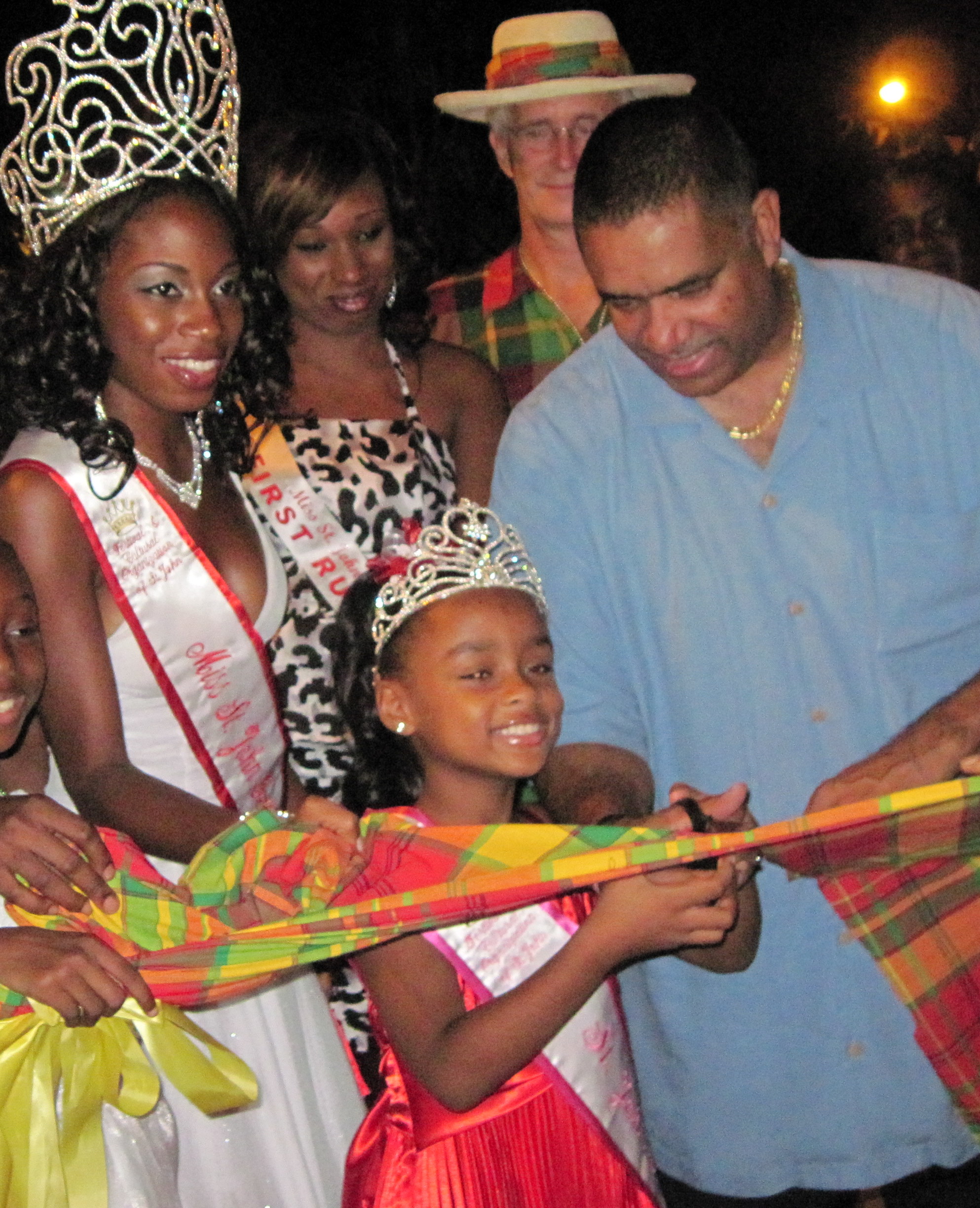 St. John Princess Destini Garcia snipped, snipped and snipped some more before she cut through the madras ribbon to signify the Wednesday opening of St. John Festival Village.
The village, located in the parking lot across from the post office, was named Powellville in honor of Selwyn Powell, who for many years helped make the annual celebration happen. After others sung his praises, Powell had his turn at the microphone.
"I ain't no man to talk, but I'm here to thank the committee," he said.
The evening also saw the crowning of Garcia and Miss St. John, Shante Monsanto-Weeks. The queen and princess are usually crowed at Food Fair, but last week's inclement weather postponed the Princess Show twice. It was finally held Monday, and the St. John Festival and Cultural Organization decided to wait until the Village opening to do the honors for both the queen and the princess.
Garcia asked those at the village opening to have a happy and safe Carnival.
"Stop the violence," she added.
Monsanto-Weeks spoke about the effort that went into preparing to be queen.
"The first and greatest victory is to conquer yourself," she said.
Speeches aside, the several hundred people who turned out for the village opening were there to have fun.
"We're here to try the local culture and flavor," said Heidi Sward, a visitor from Hamden, Conn., who was staying at Caneel Bay Resort with her husband, John Sward.
While there were many, many vacationers among those at the village, locals were also out in force.
"I always come out for the first night of Carnival. You want to see who all comes home to visit and to have fun," St. John resident Leslie Smith said.
A couple of blocks east, the Rotary Club of St. John members and helpers were busy running the Children's Carnival Village.
"It's so important for children to have a drug- and alcohol-free place to play during Carnival," Rotary Club member B.J. Harris said.
Vacationers also found their way to the Children's Village. Michelle Obateru of Schererville, Ind., was on hand. She and her family were staying at the Wyndham Sugar Bay Resort on St. Thomas, but hopped the ferry to see what Festival was all about.
Festival Village remains open through Monday. The musical lineup began Wednesday with the Love City Pan Dragons, Cool Sessions Brass and Spectrum.
On Thursday, Ah We Band, Extreme with Jamsy P. and Dominica's WCK will take to the stage. On Friday, look for Imagination Brass, UMB Soldiers and El-A-Kru featuring Tizzy.
Saturday has Red Hot Flames, Odisi from Nevis and Daddy Jones and Crew with Pumpa and Rudy, while Pan in Motion, Wrection, Xpress Band, Nu Vybes, and Destra are on tap for Sunday.
Festival Village wraps up with Cool Sessions Brass, Jam Band and Shurwayne Winchester on stage.