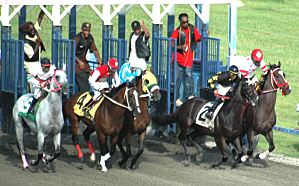 The Budhoe Classic and the Independence Day Handicap will highlight TRAXCO's July fourth races on Sunday at the Randolph "Doc" James Racetrack. A huge crowd is expected and TRAXCO has put together what looked to be a very well matched card.
The Budhoe Classic, the eighth race of the day for native-born thoroughbreds, will be run at a distance of one mile. The race will see the return of veteran campaigner, King David (121) coming off of a long layoff. Seven others will also be looking to take home the lion's share of the day's top purse of $8,000.00. From Emeralds to Ruby's (114) comes out of gate one, Belzona Red (117), gate two, the speedy War (117), gate three, Miss Kosi (115), gate 4, with Creation Rebel (120), Dinero (119), and King David rounding out the field in that respective order. War is expected take the early lead out of the gates, but Creation Rebel, Gold Finger and King David will be rolling late.
The ninth race on the card, the Independence Day Handicap run at a distance of one mile for the territory's top thoroughbreds, will see Gallant Ruler (119) out of St. Thomas come across the pond to challenge St. Croix best. He will be going up against Cherokee Law (117), Lost River (119), and Formal King (119) in arguably one of the best matched race that St. Croix has seen for some time. Any of these horses is capable of making it to the winner's circle in this wide open race to claim the biggest share of the $7,000.00 purse and fans is no doubt looking forward to this one. With most of these horses either preferring to close or come just off the pace, they will be curious to see who will be willing to get out front and set the early fractions.
The rest of the day's card:
Race 1 N-6 4 ½ F $4500.00
1. Midnight Indictment 116
1A. Midnight Jury Trial 116
2. Teck That 116
3. 07 07 07 Rita 114
4. She Kris (debut)
5. Small Fortune 116
6. Road AKA Officer 116
Race 2Class N5/I-5, M/F 6F $4000.00
1. Devil's Revenge 118
1A. Apron's Dance 118
2. Dana's Express 114
3. Ed's Value 116
4. Qualifying Asset 118
5. Sarasota May Bell 118
6. Laura's Fury 118
7. Grey Forbes (STT) 119
Race3 Class I-5-6 C/G 1 M $4,200.00
1. Collegeville Kid 118
2. Wiseman's Choice 116
3. Tulsa boy 117
4. Zirito 117
5. Protype 116
6. Caribbean Slew 114
7. Thunder Duncan 115
8. Get Ready Now 115
Race 4 Classes 1, 2, 3, 4 M/F 1M $5000.00
1. Pay Back 114
2. Destiny Arrival 116
3 Leggy Blonde 116
4. Big Kate 118
5. Fools Paraise 118
6. Cinque Terre 120
Race 5Open M/F 5 F $5000.00
1. Cherokee Neesh 114
2. African Talker 116
3. Her Baby Blues 116
4. Flanker's Lady 120
5. YIMC Sword 115
6. WonderIfIamSpecial 118
Race 6 Class I-3-4 C/G 7 ½ F $4,500.00
1. Heats on fire 118
2. Big thunder Reflec 116
3. Groomsman (Debut) 114
4. Daddy Eddy 118
5. United Deelites 116
6. My Own Sky 116
7. Formerly Cat 114
Race 7 Class 1-2-3 C/G 1M $5000.00
1. Charlie Cho 118
2. Black Jack Bob 116
3. Green Sand 118
4. Puerto Rican Emblem 118
Race 10 Class I-4&5 7 F $4,300.00
1. Mi Jesuse 117
2. Ala Cat 117
3. Expect Smoke (debut) 117
4. Black Machine 117
5. Dixie Find 117