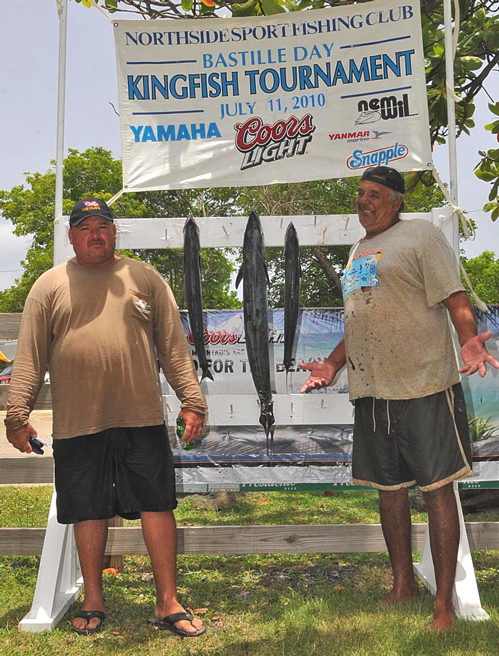 Patrick Berry reeled in the winning fish in the 22nd Annual Bastille Day Kingfish Tournament Sunday, bringing in a 20.88 pounder that he said wasn't all that hard to find
"As soon as I put my bait in the water, there he was," said Berry about the prize-winning fish he caught mid-morning. "It was a good day. A little windy but the seas were calm, at least where we were to the west."
For his efforts, Berry pocketed $2,000 in cash for the winning fish in the contest sponsored by NEMWIL, managed in the U.S.V.I. by Red Hook Agencies, Inc.
The annual event brought out 167 anglers, including 29 junior anglers, who caught a total of 87 fish weighing 702.08 pounds. Of those, 24 were kingfish weighing a total of 219.94 pounds.
The second largest kingfish was pulled in by John Parr, an 18.23-pounder. Parr, who was aboard Comfortably Numb, won $1,000 in cash for his fish.
Larry Butler, fishing aboard Bambooshay, reeled in a 15.87-pounder to win the $850 cash prize for the third largest kingfish cash prize of.
With 10 fish (65.88-pounds) total, Derek Quetel aboard Alpha Q won the best boat award and $1,000 cash from Offshore Marine and Yanmar.
The catch of 4 kingfish (20.9-pounds) earned Raymond Petersen, aboard Pier Pressure, the best captain award and $1,000 cash from Offshore Marine and Yanmar.
Ernest Quetel's catch of a total of 65.88-pounds of fish, aboard Alpha Q, earned him the title of best male angler and a $750 cash prize from Offshore Marine and Yanmar.
Michelle Wiebracht, aboard Pier Pressure, reeled in a total of 22.67-pounds of fish to pick up the best female angler award and a $750 cash prize.
The prize for best junior male – $250 cash from Offshore Marine and Yanmar – went to Robert A. Greaux, Jr., who caught 34.79-pounds of fish aboard, C-Hawk.
Kimberly Brin won the best junior female prize, $250 cash from Offshore Marine and Yanmar, with the catch of 49.23-pounds of fish, aboard Suga Lips.
Although the tournament is focused around kingfish, other species earned anglers $525 cash each courtesy of TOPA Insurance Services, Inc. They were:
• Meghan Tomarchio caught the largest jack, a 6.66-pounder, from aboard Mixed Bag.
• Robert Greaux, Jr. reeled in the largest barracuda, a 21.68-pounder from aboard C-Hawk.
• The largest bonito was caught aboard Teetzio by Andrea Tromben, and it was a tournament record at 11.35-pounds.
• Vince Bryan reeled in the largest mackerel, an 8.84-pounder, from aboard Absolutely.
New this year, the Scotiabank Sand Sculpture Contest held on Hull Bay Beach was a hit with kids. After two hours spent building an elaborate sand-fashioned fortress, 2-year-old Peyton Magras and 9-year-old Michael Magras, were declared winners of the $100 cash prize.
Winners also received overnight stays at local hotels, dinners for two, and a variety of luxury gifts and excursions all generously donated by the Virgin Islands' business community.
Judges Herman Richardson and Kevin LaPlace, Sr., officially weighed in the catches.
All 29 registered junior anglers were eligible for a special "Catch In The Hat" award. In this award, sponsored by Red Hook Ag
ncies, the first 8 names drawn from a hat received $50 cash and the last name called received $100 ca
early $10,000 was awarded this year in cash and prizes this ye
Each year, the Northside Sportfishing Club makes donations to community org
nizations and individuals. This year's beneficiaries were The Joseph Sibilly School, St. Thomas Rescue and Kidscope. The Club also awarded two college scholarships
The tournament was run this year by organizers Catherine Bryan, Gene Brin, Jr., Danny and Jessica LaPlace, and Carlyn and Wesley Lede.