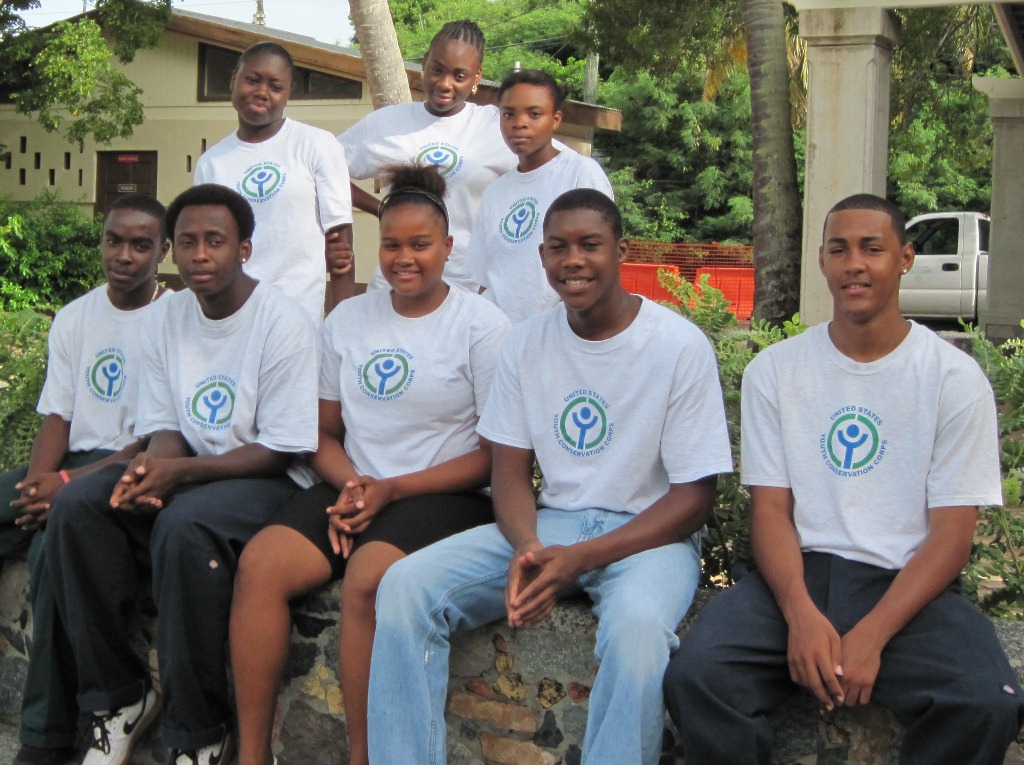 This summer eight youths from St. Thomas and St. John are earning money and helping V.I. National Park in so many ways through the park's Youth Conservation Corps.
They're cleaning beaches, spiffing up the Visitors Center and filing those stacks of papers that seem to accumulate.
"They are the best crew in the past six years, attitude and work-wise," park maintenance worker Glen Sprauve said.
Sprauve is spending his days keeping the youths on track during the program, which ends Aug. 6.
According to Park Superintendent Mark Hardgrove, the program brings some of the territory's most talented and energetic young people to the park.
"We hope this eight-week experience will allow them to apply what they have learned in their lives so far and help them make the best choices for the next phase of their adult lives," Hardgrove said.
The youths gathered Wednesday at the pavilion outside the Visitors Center to share their experiences. Just about all of them said they jumped at the jobs because they needed to earn money.
"And I was also interested in coming over to St. John. I came here once, but I never explored the island," St. Thomas resident Jahnelle Rivera, 18, said.
Rivera, a sophomore at the University of the Virgin Islands, is studying psychology for a career as an adult psychologist.
St. Thomas resident Patricio Donastorg, 15, also wanted to learn more about St. John. The All Saints School freshman wants to be a football player when he gets out of school.
None of the youths said they planned a career with the park, but Monae Clarke, 17, of St. Thomas said he looked forward to a stint at the park's Biosphere Reserve so he could learn about the park's scientific endeavors. The Gifft Hill School graduate is heading off to Full Sail University in Orlando to study film and video production.
St. John resident and Gifft Hill School junior Bryan Morton also wanted to learn more about the park and how it runs. The 16-year-old plans to go to college and play basketball.
The fact that they had a fun group of people to work with made the job more interesting, several said.
"I'm having fun because of the people I'm around. They're fun and interesting," Seandre Sadler, 16, said.
St. Thomas-born with his family on St. John, Sadler now lives in Keene, Texas. He's staying with family for the summer while he works with the YCC. A high school senior, he plans to play college basketball before going into business.
Alexa Richards, 15, of St. John who attends Eudora Kean High School plans to be a forensic scientist when she gets out of college. Like Sadler, she said the best part of the job was her peers.
They learned about the job opportunity in various ways, but word of mouth helped a lot.
"A friend told me about the job," Nyshima Felix, 15, of St. John said.
A Gifft Hill School student, she plans to be a pediatrician.
While the youths spent their days working, there was some time for fun.
"The best part was going around the island on a boat," St. John resident Alvin Grant, 17, said.
A Charlotte Amalie High School student, he plans to study auto body mechanics.